Rib cage pain can occur with or without injury, ranging from dull and tender to sharp and extreme. Depending on the underlying cause, the pain may be isolated to either side of the ribs or felt below the chest. If you're experiencing any degree of rib cage pain, visit your nearby FastMed Urgent Care for proper evaluation.
Pain in Your Rib Cage?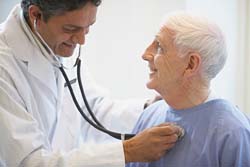 Potential Causes*
Rib cage pain is related to numerous health-related systems:
Musculoskeletal: Cracked, broken, or bruised ribs are injuries that can cause pain in addition to nerve and ligament conditions, such as osteoporosis or fibromyalgia.
Respiratory-system: Asthma, pneumonia, COPD, and pleurisy are a few lung-related conditions linked to rib cage pain.
Cardiovascular: Conditions affecting areas surrounding the rib cage, such as aortic dissection and congestive heart failure, can potentially cause rib cage discomfort.
Digestive-system: Gastrointestinal issues, like heartburn and peptic ulcers, can cause both general chest and rib cage pain.
Our staff of dedicated medical professionals are experienced and understand the importance of individualized care. If you come in for an evaluation regarding rib cage pain, you may be asked to participate in the following:
Discussion of Symptoms: Questions regarding the location, frequency, duration, severity, and type of rib cage pain may be asked in order to gain better insight about your condition.
Digital X-rays: A chest x-ray may be necessary to identify broken, fractured, or chipped ribs. It may also be used as a method of ruling out other potential conditions.
Treatment plan: Once a diagnosis is made, your medical professional will go over the recommended treatment plan to get you on the road to recovery.
When you're experiencing rib cage pain, FastMed Urgent Care is the most convenient and affordable solution. It's our goal to treat each patient within an hour–and no appointment necessary. We accept most major insurance carriers, most credit cards, and personal checks. Don't have insurance coverage? Check out our available discount programs to see if you qualify.