Some of the best treatments for a runny nose include getting lots of rest, fluids, and vitamin C. There are many possible causes for a runny nose, including the common cold, flu, allergies, sinus infections, changes in weather, reactions to medication, and irritation from foods or chemicals. Because of the variety of reasons for a runny nose, the most effective treatment may vary.
Runny Nose Remedies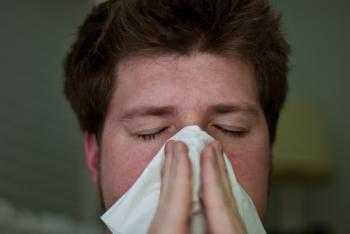 If you are sneezing and have a runny nose or a fever, you may have a cold or the flu.
Physicians typically recommend the following treatment for patients suffering from the common cold:
Drink lots of fluids, especially water.
Get plenty of rest.
Take over-the-counter medicines as directed.
Increase your intake of vitamin C.
A cold or the flu should last no longer than a week. If your symptoms persist, be sure to contact a healthcare professional. If you are suffering from the flu, your physician may prescribe antibiotics.
Nasal Congestion Due to Allergies
Pollen, grass, mold, pet dander, and dust are allergens that affect many people. A runny nose caused by allergies can often be treated with:
Nasal spray (applied three to four times daily)
Nasal strips
Antihistamines
Decongestants
Lowering the humidity in your home
Thoroughly bathing your pets
Applying a warm, moist washcloth to your face
Sinus Infections and Other Viruses
If you have a sinus infection or any other viral infection, you may have these symptoms in addition to a runny nose:
Scratchiness of the throat
Painful swallowing
Swollen tonsils
Vocal hoarseness
Headaches
Body aches
Fever
Chills
Nausea
Vomiting
Sinus infections and other viral infections typically require prescription medication to speed up the recovery process. If your symptoms include fever and nausea, you should speak to a healthcare professional.
Get Quick Treatment for Your Runny Nose at FastMed
Whether you're suffering from allergies, a cold, the flu, or an infection, the medical professionals at FastMed Urgent Care can provide caring and fast treatment for your runny nose.
At FastMed, we accept all major insurance plans, including Medicare and Medicaid so check out our Insurance Page to confirm that your specific plan is accepted.
Follow us on Twitter to learn more about FastMed Urgent Care in your community, and stop in today to receiving caring treatment for your runny nose.
———-
Sources:
Medline Plus: https://www.nlm.nih.gov/medlineplus/ency/article/003049.htm