Did you know that It is possible to have a sinus infection and strep throat at the same time? When your body's immune system is low, you are more susceptible to illnesses and have a harder time fighting them off. So, what starts as a mild cold can end up a severe sinus infection and strep throat.
A sinus infection (sinusitis) occurs when your sinuses become swollen and inflamed. It is common to develop a sinus infection after a cold because a cold can cause sinuses to swell, preventing the discharge of mucus. According to WebMD, "When the sinuses become blocked and filled with fluid, bacteria can grow there and cause infection. This infection is sinusitis."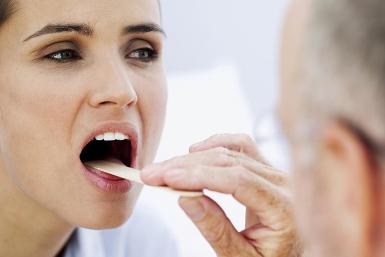 Symptoms
Pain or feeling of pressure around the eyes and face

Headache

Thick, yellow nasal discharge that has a foul smell

Post-nasal drip

Fever, cough, and congestion

Cold-like symptoms that last longer than 10 days
Treatment
In most cases, a sinus infection can be treated with antibiotics. Your physician may also suggest taking decongestants to decrease the swelling in your nasal passages.
Strep Throat
Strep throat (Streptococcal pharyngitis) is a bacterial infection of the throat. Although strep throat is most common in children aged 5 to 15, it can affect anyone at any age. Strep throat is highly contagious and can be passed from person to person through airborne droplets (when someone with the infection sneezes or coughs) or through direct contact with infected surfaces.
Symptoms
Difficulty swallowing

Severe throat pain

Swollen tonsils

White patches or streaks of pus in the back of throat

Swollen lymph nodes

Fever and headache

Stomachache, fatigue, and vomiting (especially in young children)
Treatment
A physician can usually determine if you have strep throat in a matter of minutes with a rapid strep test. Once it is confirmed that you have strep throat, he or she will normally prescribe antibiotics. If you have a sinus infection and strep throat, the antibiotics that are prescribed for one illness will usually take care of the other illness as well.
Whether you have strep throat, a sinus infection, a cold, or the flu, FastMed Urgent Care is available to see you every day of the year. With locations throughout North Carolina and Arizona, finding the care you need is simple. Contact your local FastMed today.
About FastMed
FastMed Urgent Care owns and operates nearly 200 centers in North Carolina, Arizona and Texas that provide a broad range of acute/episodic and preventive healthcare services 365 days a year. FastMed also provides workers' compensation and other occupational health services at all its centers, and family and sports medicine services at select locations. FastMed has successfully treated more than six million patients and is the only independent urgent care operator in North Carolina, Arizona and Texas to be awarded The Joint Commission's Gold Seal of Approval® for quality, safety and infection control in ambulatory healthcare. For more information about locations, services, hours of operation, insurance and prices, visit www.fastmed.com.