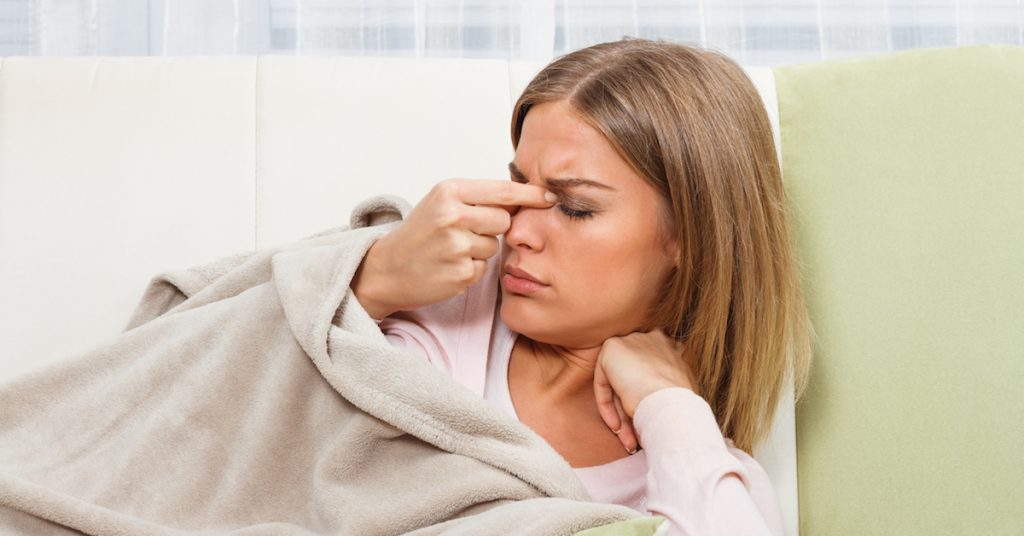 If you've ever experienced a sinus infection, you know how uncomfortable it can be. Sinusitis is the inflammation of the tissue lining the nasal cavities, trapping mucus and air inside. Approximately 24 to 31 million cases of sinusitis occur in the United States every year, with 12.5 percent affected by chronic sinus infection.
Although many instances of acute sinusitis can be treated at home, severe or chronic sinus infections require medical attention. A severe sinus infection often is caused by bacteria, which can spread to other areas of the body if not treated.
Fortunately, seeking medical attention quickly at your local FastMed Urgent Care clinic can help you avoid potentially life-threatening complications. Here's how to tell if your sinus infection symptoms warrant a trip to a medical professional.
What Are the Signs of Sinus Infection?
Infected sinuses cause a host of uncomfortable symptoms, many of which can be treated with over-the-counter pain medications. The following are signs of a viral sinus infection:
Sinus headache
Tenderness around the face
Pain and pressure in the sinuses, ears, or teeth
Fever
Discolored nasal or postnasal drainage
Stuffy nose
Sore throat
Cough
Bacterial sinus infection symptoms are typically more severe than those caused by viral infections. If your infection is bacterial, you may experience these additional symptoms:
Severe facial pain
Nasal discharge with a pus-like consistency
Symptoms that do not respond to over-the-counter medications
When is it Time to See a Medical Professional for Sinusitis?
When treating sinus infections, the first step is to determine whether the infection is viral or bacterial. The only way to determine the cause of your sinus infection symptoms is to swab inside the nose to grow a culture. This usually is unnecessary, since most sinus inflammation is caused by viruses. Viral infections tend to go away on their own with proper home treatment.
If your symptoms don't resolve within seven to 10 days—or if your sinus problems are chronic—it may be time to see a doctor. Bacterial infections are resolved much more quickly with antibiotics. Visit a doctor or urgent care clinic for a sinus infection cure if your symptoms are persistent or severe.
When Do I Need Antibiotics for a Sinus Infection?
Doctors prescribe antibiotics for bacterial infections to increase patient comfort and lessen the duration of the illness. Plus, some medical professionals believe that untreated infections of the sinuses can become a chronic problem. Those with allergies or autoimmune disorders are especially prone to chronic sinus inflammation.
How long you'll require antibiotics depends on your general health and the seriousness of the infection. Most patients require medication for 5 to 7 days. Your physician may also prescribe decongestants and other medications to ease drainage and reduce swelling. Call your doctor if you symptoms don't show improvement within 3 to 5 days.
Treating sinus infections with antibiotics is generally very safe and effective. Most people recover completely with antibiotic care whether their infection is acute or chronic.
Can Sinus Infections Become Dangerous?
While antibiotics are an effective treatment for sinus infections, complications can occur when the infection spreads to the eyes or brain. Here are three potential complications caused by severe sinus infections:
Cavernous Sinus Thrombosis
Sinus infections that spread to the eye area often cause redness, swelling, and reduced vision. In severe cases, a blood clot can form inside the sinuses in a condition called cavernous sinus thrombosis. Loss of vision, bulging eyes, and paralysis of the cranial nerves can develop, making it essential to seek medical care right away if you suspect this condition.
Meningitis
In addition to spreading to the eyes, sinus infections can sometimes move to the brain, leading to meningitis. Meningitis is characterized by shivering, loss of appetite, lethargy, and blotchy patches on the skin. Patients with meningitis often become confused and irritated by sounds or bright lights. Bacterial meningitis can be life threatening if not treated, so seek medical care immediately if you or a family member is experiencing symptoms.
Brain Abscesses
Brain abscesses also can develop due to untreated sinus infections. When bacteria reach the brain, it causes the tissue to swell. Brain abscesses cause confusion, nausea and vomiting, impaired mental processes, and other serious symptoms. An abscess can cause significant brain damage without proper treatment.
Fortunately, complications caused by sinus infections are very rare. However, it's still important to monitor your symptoms if your sinuses are infected. Visit your nearest FastMed clinic for a sinus infection cure if your symptoms become severe.
About FastMed
FastMed Urgent Care owns and operates nearly 200 centers in North Carolina, Arizona and Texas that provide a broad range of acute/episodic and preventive healthcare services 365 days a year. FastMed also provides workers' compensation and other occupational health services at all its centers, and family and sports medicine services at select locations. FastMed has successfully treated more than six million patients and is the only independent urgent care operator in North Carolina, Arizona and Texas to be awarded The Joint Commission's Gold Seal of Approval® for quality, safety and infection control in ambulatory healthcare. For more information about locations, services, hours of operation, insurance and prices, visit www.fastmed.com.