Sore Throat and Diarrhea Could Mean the Flu
Sore throat and diarrhea are two very different symptoms that could be a sign of a very common illnesses in the United States – influenza.
Influenza, or "the flu," is an infectious disease that typically occurs in the fall and winter and is caused by the influenza virus. Symptoms of the flu may include sore throat and diarrhea, along with:
High fever
Chills
Headache
Fatigue
Muscle Aches
Dizziness
and more…
If you are experiencing sore throat and diarrhea, along with any of these symptoms, you could have the flu. A trip to your local FastMed could be in order. We provide you with a quick test that can determine if you have the flu in just 10 minutes and treatment to have you feeling better in no time.
Other Possibilities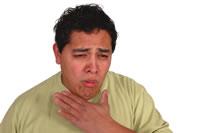 If you don't think you have the flu but your sore throat and diarrhea persist for more than a few days, you should still visit FastMed to rule out other possibilities. Although influenza is the most common cause of sore throat and diarrhea together, there are a large number of other conditions that could be to blame, like:
For more questions about symptoms like sore throat and diarrhea, check out our online health resources center.