Sore throat, headache, stuffy nose – you're sick. The question is "with what?" The symptoms of a cold, strep throat, and even the flu have some similarities. Strep throat and the flu are highly contagious and shouldn't be taken lightly. Even if you're just suffering from a cold, it's best to get plenty of rest and take care of yourself.
I've Got a Sore Throat, Headache, and Stuffy Nose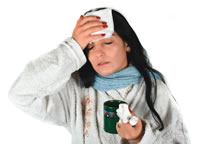 So how do you know what's wrong? Here are some common symptoms of a cold, strep throat, and the flu.
Common Cold Symptoms
Sore throat

Headache

Nasal congestion

Chest congestion
A cold usually lasts around a week. You can usually treat a common cold with over the counter medications and by drinking plenty of fluids and getting lots of rest. You don't normally need to see a physician for a cold unless you experience severe symptoms that could be signs of something worse, such as bronchitis or pneumonia.
Strep Throat Symptoms
Sore throat

Headache

Swollen glands

Red tonsils, sometimes with white spots
Strep throat is a bacterial infection that requires medical attention. If left untreated, strep throat can lead to serious complications, such as rheumatic fever or kidney inflammation.
Influenza (Flu) Symptoms
Sore throat, headache, runny nose, cough

Fever and chills lasting multiple days

Body aches and severe fatigue
The flu is a contagious respiratory illness that comes on suddenly, unlike a cold. For young children and older adults, the flu can be dangerous, even life threatening. The Center for Disease Control recommends anyone over 6 months get a flu shot.
If you feel any of these symptoms, you can get your flu shot, or rapid strep test at FastMed – just type in your zip code to find an office near you. If you come down with the flu, our medical team can provide antiviral drugs that may help reduce the severity of your symptoms.
Sore throat, headache, and runny nose – FastMed is here to help seven days a week.
About FastMed
FastMed Urgent Care owns and operates nearly 200 centers in North Carolina, Arizona and Texas that provide a broad range of acute/episodic and preventive healthcare services 365 days a year. FastMed also provides workers' compensation and other occupational health services at all its centers, and family and sports medicine services at select locations. FastMed has successfully treated more than six million patients and is the only independent urgent care operator in North Carolina, Arizona and Texas to be awarded The Joint Commission's Gold Seal of Approval® for quality, safety and infection control in ambulatory healthcare. For more information about locations, services, hours of operation, insurance and prices, visit www.fastmed.com.