Getting a sports physical examination is often a required component of participating in or trying out for a sports program. Medical professionals examine kids or teens for any diseases or injuries that could make it unsafe to participate in sports and review the family and child's medical histories to ensure additional tests are performed if needed.
Why Do Children Need a Sports Physical Examination?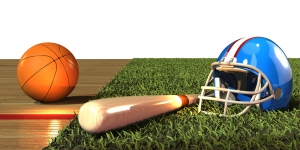 In the United States, 35 million children participate in sports each year. Each one needs to be prepared to have a healthy, successful season. Preparing to play a sport involves gathering the right equipment, uniforms, and practicing fundamental skills. However, preparing your body to ensure it is ready to endure physical activity is the most important preparation you can do before a season starts. Painful injuries can land a seat on the sidelines for the whole season, so it's important your body is ready to withstand anything from a sprained ankle to bee stings without compromising overall health.
What Happens During a Sports Physical Exam?
Medical professionals will begin by asking questions about family medical history and personal history of illness, hospitalizations, or injuries that could prevent participation. Children and teens might be asked to answer a health history form about daily habits to see if anything might limit the amount of activity they can manage.
The physical exam portion may include checking the following:
Ear, nose, and throat

Vision and hearing

Height and weight

Pulse, blood pressure, heart, lungs, and other organs

Joint flexibility, mobility, spinal alignment, and posture

Cholesterol, urine, or hemoglobin screening

Neurological functions such as reflexes, coordination, and strength

And more
The medical professional will then determine if a person is healthy enough for sports. If the sports physical examination returns concerns, recommendations for modifications like an inhaler for asthma, an epinephrine auto injector for possible anaphylactic shock from insect stings, or other special protective equipment may be made. In some cases, medical professionals might recommend a person is not healthy for regular participation in sports.
Where Can I Take My Athlete to Get a Sports Physical?
Come to your local FastMed if your athlete needs a sports physical examination! We do not require appointments and can see most walk-ins in under an hour. We offer convenient hours to fit busy schedules so you do not have to miss work or school. We are even open on weekends and holidays. Our friendly medical professionals will ensure your child is physically ready to participate in sports.
About FastMed
FastMed Urgent Care owns and operates nearly 200 centers in North Carolina, Arizona and Texas that provide a broad range of acute/episodic and preventive healthcare services 365 days a year. FastMed also provides workers' compensation and other occupational health services at all its centers, and family and sports medicine services at select locations. FastMed has successfully treated more than six million patients and is the only independent urgent care operator in North Carolina, Arizona and Texas to be awarded The Joint Commission's Gold Seal of Approval® for quality, safety and infection control in ambulatory healthcare. For more information about locations, services, hours of operation, insurance and prices, visit www.fastmed.com.