How do you determine a sprained wrist vs. a broken wrist? The fastest way to be sure is to get an X-ray image of the wrist to look for a fracture. If you or a loved one suffer a wrist injury and are experiencing pain, check for some of the following symptoms to determine whether the wrist is sprained or broken.
Common Symptoms of Wrist Injuries
A broken wrist and sprained wrist often share certain symptoms:

Pain
Swelling
Tenderness
Slight bruising
Signs of a Wrist Fracture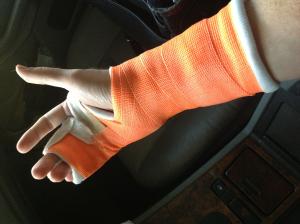 There are certain indicators that an injured wrist is broken and not simply sprained:

The pain upon injury is very sharp, and you hear a snap.
The wrist shows a large lump or appears to be lopsided or otherwise deformed.
Swelling begins immediately and continues getting worse.
You experience tingling or numbness in your fingers.
If you believe your wrist is broken, you need fast medical attention. The bone should be set in place and the wrist immobilized to ensure proper healing.
If you don't experience those more severe symptoms, it is likely that you have a minor sprain. You may decide to treat it at home using the following methods:

Ice your wrist regularly.
Stabilize the wrist with an ace bandage or splint.
Rest and elevate your wrist as much as possible.
Bones of the Wrist and Hand
There are eight small carpal bones in the wrist that connect to the hand and the forearm. These bones manage hand movement. If you can't move your fingers, it's a likely indicator that the wrist is broken.
Ligaments stretch between these carpal bones, connecting one to another. Strain or tearing of the ligament is often what causes pain and swelling in a sprain.
Treating Sprained and Broken Wrists at FastMed Urgent Care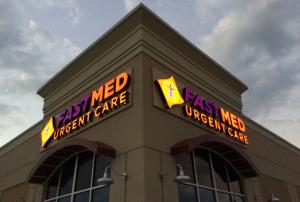 Come to a FastMed Urgent Care clinic for an X-ray if you suffer a wrist injury. Visiting one of our clinics is typically faster and cheaper than a trip to the emergency room. With on-site X-ray technology, our medical professionals will diagnose your wrist pain and determine the appropriate treatment.
Whether you have a sprained wrist or a broken wrist, don't delay in getting the treatment you need. FastMed Urgent Care accepts all major insurance plans, including Medicare and Medicaid, so check out our Insurance page to confirm that your plan is accepted.
Our patients have great things to say about the compassionate care they receive at FastMed Urgent Care. Linda S. said, "I rushed in your doors at closing time with my daughter. She had quite a gash that needed medical treatment with multiple stitches. You did an excellent job and her wound and stitches have healed beautifully!"
———-
Sources:
Innerbody: https://www.innerbody.com/image
WebMD: https://www.webmd.com/fitness-exercise/wrist-sprain
National Library of Medicine: https://www.nlm.nih.gov/medlineplus/ency/imagepages