<![CDATA[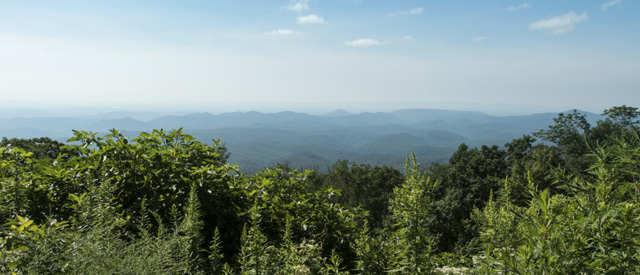 Nestled in the heart of the Blue Ridge Mountains, Boone, North Carolina offers four seasons of fun for residents, visitors, and students alike. At such a high elevation (3,300 feet), we get all of the benefits of beautiful North Carolina scenery and wildlife without suffering from unbearably hot, sticky weather. Spring is a wonderful time to take advantage of some of the many sights Boone has to offer. Consider trying out one of these activities!
Grandfather Mountain
Whether you're a first-time visitor or have been to Grandfather Mountain a thousand times, there's always something new to experience. Admire the panoramic views from atop the mile-high swinging bridge – an engineering masterpiece that is completely wheelchair accessible.
There are walking and hiking trails galore, and you can add to your experience by hiring an interpretive ranger to point out rare and exotic flora and fauna along the way. Don't miss the wildlife habitats, where you can come face-to-face with cougars, black bears, and playful river otters!
Mystery Hill and the Appalachian Heritage Museum
Defy gravity, see your shadow stick to the wall, and explore other phenomena at Mystery Hill. Over 65 years ago, the owner of a cider mill on Mystery Hill noticed some unusual happenings. Apples would always fall on the same side of the trees. When identical twins stood on the hill, the twin on the lower north end always looked taller.
See these and other marvels for yourself at Mystery Hill. While you're there, stop by the Appalachian Heritage Museum and the Native American Artifacts Museum for an interesting historical look at this part of North Carolina.
Linville Caverns
Tap into your inner spelunker as you see what it's like inside a mountain. The Linville caverns, located less than an hour from Boone, are the only show caverns in North Carolina. Admire dazzling stalactites and towering stalagmites as you make your way through the cavern. Keep an eye out for wildlife, including trout, bats, salamanders, and other subterranean creatures.
Your courteous guide will tell you stories of the Civil War deserters that hid in these very caverns! At a cool 52°, a quick tour through the caverns is a great way to beat the heat.
Boone Area Wine Trail
Leave the kids at home and explore the viticulture of Boone on this self-guided wine tour. Enjoy the beautiful scenery as you tour wineries, chat with vintners, and sample plenty of delicious libations. Sip your first glass at the Grandfather Vineyard and Winery, where the grapes grow on a dramatic hillside of rocky terraces. From there, head to the Banner Elk Winery & Inn, near the picturesque North Carolina Scenic Byway.

Learn about the challenges of high elevation viticulture, as these vineyards are the highest in the Eastern United States. Your last stop is at the 1861 Farmhouse Restaurant & Winery, which dates to 1855 and is on the National Register of Historic Places. Before you leave, stop by Mast General Store, located just across the way! 

Don't forget to stay safe while you're having fun in Boone. Wear sunscreen even on cloudy days, and make sure you have sturdy footwear for hikes and cavern exploring. If you do have a non-life-threatening emergency, such as a sprained ankle, heatstroke, or a rash from poison ivy or other irritant, head to FastMed Urgent Care in Boone. We'll have you back to health in no time!

]]>