Stomach ache and nausea causes can be vastly different among individuals. Stomach ache and nausea can be caused by anything from food poisoning to irritable bowel syndrome.
Sometimes stomach ache and nausea will go away on their own, but it is always a good idea to see a medical professional to rule out serious issues. FastMed's walk-in clinics in Charlotte, NC, feature state-of-the-art equipment to help us determine the causes of your stomach ache and nausea, as well as quickly provide treatment.
Stomach Ache and Nausea Causes— and Available Treatments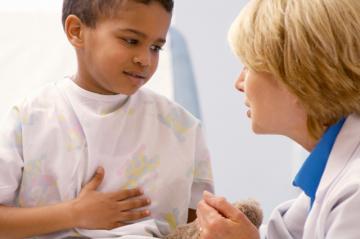 Here are a few causes of stomach ache and nausea:
Norovirus – Norovirus is a common stomach bug that can cause stomach ache, nausea, diarrhea, and vomiting. It usually lasts about 2-3 days and is extremely contagious.
Food Poisoning – Food poisoning is caused by eating food contaminated by infectious organisms, such as bacteria, viruses, and parasites. Symptoms from food occur within hours of eating contaminated food.
Lactose Intolerance – Lactose intolerance means you cannot fully digest milk sugar (lactose) in dairy products. If you have stomach pain or nausea after recently consuming dairy products, you could be lactose intolerant.
Irritable bowel syndrome – IBS is a disorder that affects the colon. It typically causes cramping, stomach ache, gas, diarrhea, and constipation.
Stomach ache and nausea causes can be minor or severe. An online symptom checker could be useful for determining stomach ache and nausea causes, as well as deciding whether or not you should see a doctor. If you are experiencing stomach ache and nausea that last longer than a few days, it is best to speak with a doctor or medical professional.
FastMed provides medical care for non-life-threatening illnesses and injuries 365 days a year. You can't predict when stomach ache and nausea will happen, and that's is why our two Charlotte, NC, locations are open extended hours. We aim to provide you with quick and affordable care, outside of the normal 9-to-5 schedule.