Strep throat, streptococcus pyogenes, strep – whatever you call it, one thing is certain: it's not fun.
Strep throat, a common bacterial infection, causes a high fever and inflammation of the throat and tonsils. Because the symptoms of strep throat are similar to that of a cold or the flu, many people never go to the doctor to get the proper treatment. Unlike the flu or a cold, however, strep throat develops rapidly and can be treated with a simple antibiotic.
Here's where it gets interesting: Did you know that many people have strep bacteria living in their throat, mouth, and nose, yet they exhibit no signs or symptoms of the infection? These individuals are called strep throat carriers. And although they are perfectly healthy, they can infect others with strep throat.
How Common are Strep Throat Carriers?
A recent study tested almost 1,400 healthy kids between the ages of 3 months and 14 years of age for strep bacteria and found that almost 1 in 10 children are strep throat carriers.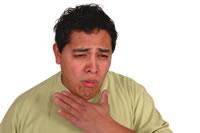 The challenges of being a strep throat carrier:
When a strep throat carrier has a sore throat, it is hard to distinguish between strep throat and other illnesses because a strep throat test will often come back positive whether or not the carrier is experiencing strep throat symptoms or not.
Should strep throat carriers take antibiotics?
If it is determined that a carrier's symptoms are caused by strep throat, antibiotics can help the bacterial infection go away faster. However, after taking the antibiotic, the strep bacteria will most likely return to the carrier, even if it does not cause any future symptoms.
What are strep throat symptoms?
Sudden fever
Sore throat
Swollen lymph nodes
Trouble swallowing
White or yellow spots around tonsils
No one should have to compromise when it comes to medical care, and FastMed is designed with your busy schedule in mind. Our team of medical professionals is available every day of the year, demonstrating our commitment to offering healthcare that is prompt, personal, and available when you need it. You can even check in online!