Strep throat? Yuck!
No one wants strep throat, but for women who are pregnant, strep throat can be especially miserable. Strep throat is a bacterial infection that causes inflammation of the throat and tonsils. And it can affect people of all ages;  in fact, 11 million people in the United States get strep throat each year. Although strep throat can usually be treated with antibiotics, like penicillin and amoxicillin, having strep throat during pregnancy introduces a new set of challenges and should not be treated without first seeing a medical professional.
Strep throat can be unpredictable. At FastMed Urgent Care, we understand that you don't always know when you will need quality medical care. We also know that you don't always have time to wait for an appointment. With FastMed in your neighborhood, you will have access to prompt, affordable medical care every day of the year.
Strep Throat During Pregnancy: What To Know And What To Do About It.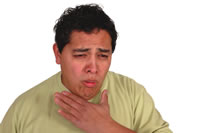 Having a sore throat does not always mean you have strep throat. Allergies, the flu, mononucleosis, and the common cold are all viral infections that cause a sore throat and cannot be treated with antibiotics.
Strep throat symptoms:
Swollen tonsils
Painful swallowing
Fever over 100 degrees
White or yellow spots around the tonsils
While paying attention to your symptoms is important, the best way to tell if you have strep throat is to see your healthcare provider for a rapid strep test. In most cases, the results of your rapid strep test will be available 10 to 15 minutes after it is administered.
How to treat strep throat during pregnancy:
If your strep test is positive, and your doctor concludes that you do have strep throat, he/she will most likely prescribe antibiotics. However, it is extremely important to follow your doctor's instructions and take the antibiotics as prescribed.
FastMed Urgent Care sets the standard for quality urgent care. All of our clinics are equipped with state-of-the-art equipment and staffed with knowledgeable, compassionate professionals. Want to know more? Check out our FAQ page!