Dear Dr. Kyle,
It's 8:00 on a Sunday morning, and I just got back from picking up my daughter from a sleepover party. I wasn't supposed to be there until noon, but around 7:45 I got a phone call from the mom of the little girl who had the sleepover. She said that she is pretty certain her daughter has strep throat and that she needs everyone to pick up their kids so she can take her little one to FastMed.
I'm worried that my daughter has strep now, too, but she hasn't shown any symptoms yet. I don't want her to be sick for long, and I'd like to get her treated as soon as possible. How long is strep throat's incubation period? When will I know if she has it? What do I do after that?
Help,
An Impatient Mom
Strep Throat Waiting Game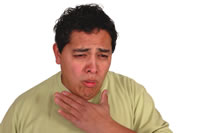 Dear Impatient,
I understand how you feel. When my kids are sick I want them to get well as fast as possible. That is part of the reason FastMed was founded. We want to help adults and children with non-life-threatening illnesses or injuries feel better as quickly as they can!
I hate to say it, but in this case, you are just playing a waiting game. Strep throat has an incubation period of two to five days. Since she was exposed to it just last night, you'll likely have to wait a few days to see if she is infected.
I know that waiting is hard, but the good news is that FastMed can easily diagnose and treat strep throat. We can perform a rapid strep test in as little as 10 minutes, and we are open seven days a week with extended hours. If your daughter starts showing symptoms of strep throat, bring her to FastMed as soon as you notice.We'll have her feeling better in no time!
Sincerely,
Dr. Kyle