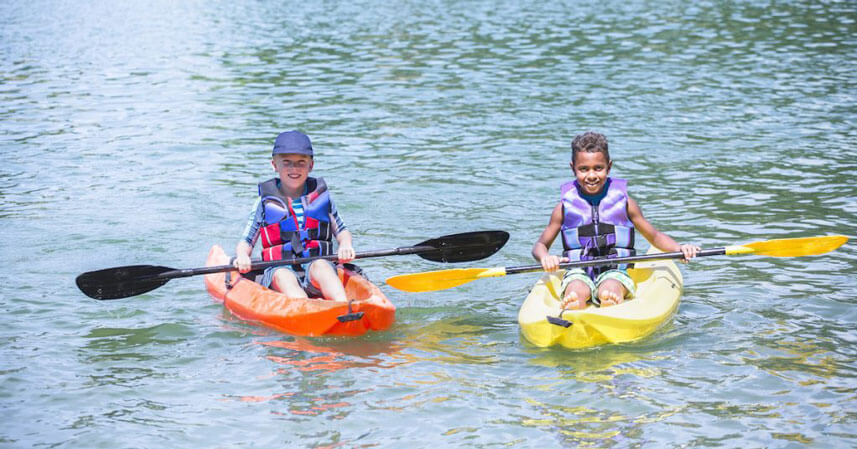 As summer approaches, kids are preparing to say goodbye to school and hello to camp. Learn how to prepare your kids for camp from a COVID-19 and general health standpoint, and why a camp physical should be at the top of your to-do list.
Camp & COVID-19
After most camps were closed in 2020, kids are looking forward to enjoying them this summer – however, the COVID-19 virus is still with us and should be considered when making any camp plans. Thankfully, there are lots of ways that camps, kids and parents can help lessen the risk of exposure.
Get vaccinated: Any family members who can be vaccinated for COVID-19 (the Pfizer vaccine is now authorized for ages 12 and up) should have theirs by the time your child heads to camp.
Location, location, location: A local day camp with children and staff who come from a community with a low number of COVID-19 cases is less risky than one that draws from a community with a higher number of cases or brings multiple communities together.
Find the right mix: Smaller groups of kids that do not mix are preferable to larger groups. And the more outdoor activities the kids can do, the better!
Food for thought: Bring your own food to camp if possible. If food is being served, it should be pre-packaged in bags or boxes with no utensil sharing.
Stay protected: Some typical camp activities, such as swimming, aren't exactly mask-friendly. But campers and staff should always have masks and hand sanitizer available and use them when possible.
Get your physical
Several types of physicals for kids are provided at all FastMed locations, including camp physicals, sports physicals, and more. Why are physicals for kids so important? Because kids are constantly growing and changing.
Scheduling regular physicals for kids allows you to keep a close eye on their health and development while safeguarding against any potential issues. Even if your child has already been vaccinated for COVID-19, annual physical exams for children can help identify other concerns that need to be addressed.
FastMed camp physicals
Camp physicals are an essential part of registering kids for summer camp. Send your kid to camp with confidence this summer by scheduling a camp physical at your nearest FastMed clinic today.
This important physical exam for children includes:
A thorough review of your child's medical records and family history, if available
A check of vital signs, height, and weight
A vision screening
Medication authorization if needed
Treatment planning, including any dietary restrictions or physical activity limitations
A vaccine review
Many camps require camp physicals to ensure that your child is healthy and physically prepared for camp activities and to reduce the risk of any injuries.
Note: Patients who have tested positive for COVID-19 within the last 6 months must visit a primary care physician or sports medicine specialist for their physical.
Other camp preparation tips
Summer days can bring great fun, but they can bring a lot of potential health concerns as well. Here are some tips to help your kids stay healthy at camp and all summer long.
Drink up: Kids can easily get dehydrated in hot and humid temperatures if they don't drink enough fluids. Water is always the best choice over juice or even sports drinks (soda should be avoided altogether). Daily water requirements are highly variable depending on age, degree of heat exposure, and level of exertion. Remember it doesn't hurt your kidneys to make urine! They actually have an easier job making a large quantity of dilute urine than a small quantity of concentrated urine.
Do the urine test: Many kids may find this funny, but the color of their urine is a great way to gauge their hydration status. Urine should be clear to light yellow. If it is dark yellow or brownish, then your child is dehydrated and needs to drink more water.
Here comes the sun: Every child needs sun protection. Whenever kids are outdoors, it's important to protect their skin from too much sun exposure. The American Academy of Dermatology recommends that all kids wear sunscreen with an SPF of 30 or higher, whether they have a light or dark skin tone. Keep your kids in the shade when the sun is at its strongest (usually from 10 AM to 4 PM) and reapply sunscreen often. An umbrella, pop-up tent, or sunglasses with 100% UV protection can also be helpful.
Monitor medicines: Some medicines can make your child's skin more sensitive to the sun's UV rays. Before leaving for camp or heading outdoors, ask your doctor or pharmacist if any prescriptions or over-the-counter medicines that your child is taking could increase their sun sensitivity.
Find a physical near me
Camp physicals, sports physicals, annual physicals – your local FastMed does them all! Summer is right around the corner, so schedule a visit with us today.
Note: Patients who have tested positive for COVID-19 within the last 6 months must visit a primary care physician or sports medicine specialist for their sports physical.
About FastMed
FastMed is one of the nation's largest urgent care providers, with 100+ locations in Florida and North Carolina. FastMed provides a broad range of acute/episodic, preventive, and occupational healthcare – in its clinics and via telemedicine – as well as family medicine at select locations. FastMed is one of the few urgent care providers in the nation that has earned The Joint Commission's coveted Gold Seal of Approval® for quality, safety and infection control in ambulatory healthcare. For more information, visit www.fastmed.com.