Sun poisoning is another term for an extreme sunburn caused by ultraviolet (UV) radiation. Symptoms of sun poisoning include severe inflammation of the skin, blisters, dehydration, nausea, headache, and fever. Although individuals with light skin tones are more susceptible to sun poisoning than individuals with darker skin, it is important for people of all skin tones to wear sunscreen to minimize the risk of skin cancer and premature aging.
The Dangers of Sun Poisoning
While most sunburns do not pose immediate danger, consistent unprotected exposure to the sun's UV rays can cause permanent damage to the skin and eyes and can lead to a wide range of skin cancers.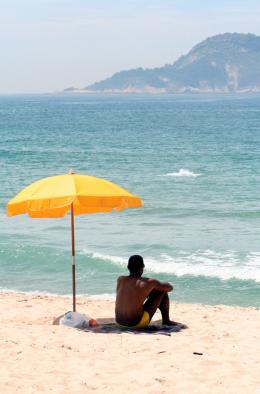 The American Academy of Dermatology estimates that more than 8,500 people in the United States are diagnosed with skin cancer every day, and that one in five Americans will develop skin cancer in their lifetime.
To help prevent your risk of sun poisoning and skin cancer, you should:
Wear sunscreen year round
Avoid the sun during the middle of the day
Never use tanning beds
Reapply sunscreen every few hours and after swimming
Polymorphous Light Eruption
In most cases, sun poisoning can be cared for at home by drinking plenty of water, taking ibuprofen, and soothing the burn with aloe vera. However, polymorphous light eruption makes individuals more susceptible to sun poisoning and may require special medication, depending on the degree of the condition.
According to DermNet, polymorphous light eruption is caused by "a delayed hypersensitivity reaction to a compound in the skin that is altered by exposure to ultraviolet radiation."
Signs and symptoms of polymorphous light eruption include:
Blisters
Dermatitis
Erythema
Lesions with a bull's-eye appearance
When to See a Doctor for Sunburn Treatment
The symptoms of sun poisoning and polymorphous light eruption will usually go away within a few days. If you experience symptoms that do not go away (especially fever, vomiting or dizziness), visit a healthcare provider immediately.
FastMed Urgent Care is dedicated to providing quality healthcare services to individuals and families at an affordable cost. In addition to providing compassionate care, we make ourselves available on weekends and evenings. We also offer a discount program to help provide the care you and your family need at a lower cost.
Find your local FastMed Urgent Care to get treatment for any summertime injuries and conditions, including sun poisoning.
———-
Sources:
UPMC: http://share.upmc.com/dangers-sun-poisoning
AAD: https://www.aad.org/media/stats/conditions/skin-cancer
Mayo Clinic: https://www.mayoclinic.org/diseases-conditions/polymorphous-light-eruption/basics/symptoms