The symptoms of a middle ear infection can appear quickly and vary slightly between children and adults. It is also worth noting that children are more likely to have ear infections than adults, with one in four children experiencing an ear infection by the time they reach 10 years-old.
Children's symptoms can include:
Ear pain, particularly when lying down
Tugging or pulling sensation on the ear
Difficulty sleeping
Excessive crying
Excessive irritability
Difficulty hearing
Balance loss
Fever (100° F or higher)
Fluid drainage from ear
Loss of appetite
Headache
Adult symptoms are fewer than those of children, but can include:
Ear ache or pain
Fluid drainage from ear
Hearing loss
If you or your child experience any of the following, go to your local FastMed Urgent Care immediately:
Symptoms that last longer than one day
Symptoms that are experienced by a child less than six months old
Severe ear pain
Infant or toddler cannot sleep or is irritable after fighting a cold or upper-respiratory infection
Active draining of fluid, pus, or discharge from the ear
What Causes Ear Infections?
Ear infections can occur after the common cold, flu, or other upper-respiratory infections that cause a buildup of fluid in the middle ear. This buildup results in a blocked or swollen Eustachian tube (the thin tube connecting the middle ear to the back of the nose) and can lead to hearing problems and dizziness. Additionally, an enlarged adenoid (soft tissue found in the back of the throat) can also cause a blocked Eustachian tube.
Treating Middle Ear Infections
There are a number of treatments a medical professional can recommend based on the severity of the infection, your or your child's tolerance to antibiotics, and your specific preferences. For mild to moderate middle ear infections, they may recommend a pain reliever to treat the symptoms until they go away.
If you or your child are experiencing the symptoms of an ear infection, visit your nearest FastMed to get treated today. At FastMed Urgent Care, our mission is to positively impact the lives of our patients and their families. We strive to see our patients promptly, and we offer flexible weekday and weekend hours to meet your needs.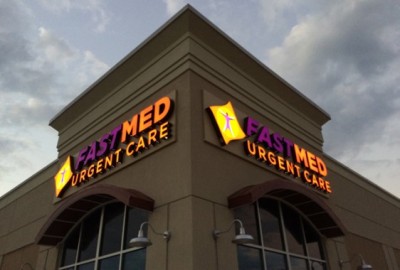 —————
Sources:
Mayo Clinic: https://www.mayoclinic.org/diseases-conditions/ear-infections/symptoms-causes/dxc-20199484
NHS: https://www.nhs.uk/conditions/ear-infections/
HealthLine: https://www.nhs.uk/conditions/ear-infections/
About FastMed
FastMed Urgent Care owns and operates nearly 200 centers in North Carolina, Arizona and Texas that provide a broad range of acute/episodic and preventive healthcare services 365 days a year. FastMed also provides workers' compensation and other occupational health services at all its centers, and family and sports medicine services at select locations. FastMed has successfully treated more than six million patients and is the only independent urgent care operator in North Carolina, Arizona and Texas to be awarded The Joint Commission's Gold Seal of Approval® for quality, safety and infection control in ambulatory healthcare. For more information about locations, services, hours of operation, insurance and prices, visit www.fastmed.com.