Heat exhaustion, which can lead to heat stroke, is not only dangerous, it can be a killer. Everyone is susceptible, and understanding the most common symptoms is usually the best way to avoid this preventable medical emergency.
Here is a look at common heat-related illnesses, as well as what to do if you believe someone is in danger of heat stroke.
What Are the Symptoms of Heat Stroke and Heat Exhaustion?
When the body experiences high temperatures for a prolonged period of time, it loses its natural ability to cool. What starts as cramping can lead to heat exhaustion, which is the precursor to heat stroke — a potentially life-threatening condition.
The Centers for Disease Control and Prevention (CDC) provides the following list of symptoms for heat-related illnesses:
Heat Exhaustion
Heavy sweating
Weakness
Cold, pale, and clammy skin
Fast, weak pulse
Nausea or vomiting
Fainting
Heat Stroke
High body temperature (above 103°F)
Hot, red, dry or moist skin
Rapid and strong pulse

Possible unconsciousness
Who is at Risk?
Though anyone exposed to high temperatures for an unsafe length of time can suffer from heat exhaustion or heat stroke, there are certain individuals who are at greater risk. These include the elderly, people taking blood pressure medications, infants, and children.
For this reason, you should never leave an infant or child inside a hot automobile. According to medicinenet.com, 38 children a year die from heat-related illnesses as a result of being left in hot cars.
When to See a Medical Professional
If symptoms of heat stroke appear, seek immediate medical attention!
Treatment for heat exhaustion typically includes moving the patient into the shade or air conditioning, giving the patient water, removing bulky clothing, allowing the patient to recline, and sponging the patient with water. Usually the patient is monitored until symptoms subside.
FastMed Provides Quick, Convenient Care
At FastMed Urgent Care, our mission is to positively impact the lives of our patients and their families.
Whether you or someone you love is suffering from a heat-related illness or other non-emergency condition, the medical professionals at FastMed are dedicated to providing affordable and compassionate treatment. We try to have patients in and out of our office promptly, with the medical care they need.
We also offer a self-pay Discount Program and accept most major health insurance providers, including Medicaid and Medicare.
Looking for more information about FastMed? Check out our FAQ page, or like us on Facebook.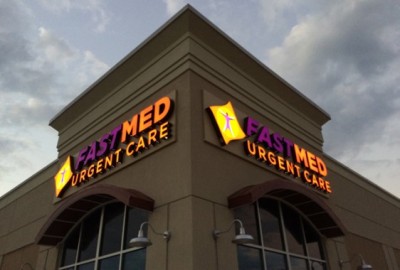 ———-
Sources:
https://www.medicinenet.com/heat_exhaustion/article.htm
https://www.cdc.gov/extremeheat/warning.html
https://www.webmd.com/news/20070813/heatstroke-death-whos-at-greatest-risk
https://www.mayoclinic.org/first-aid/first-aid-heat-exhaustion/basics/art-20056651
About FastMed
FastMed Urgent Care owns and operates nearly 200 centers in North Carolina, Arizona and Texas that provide a broad range of acute/episodic and preventive healthcare services 365 days a year. FastMed also provides workers' compensation and other occupational health services at all its centers, and family and sports medicine services at select locations. FastMed has successfully treated more than six million patients and is the only independent urgent care operator in North Carolina, Arizona and Texas to be awarded The Joint Commission's Gold Seal of Approval® for quality, safety and infection control in ambulatory healthcare. For more information about locations, services, hours of operation, insurance and prices, visit www.fastmed.com.