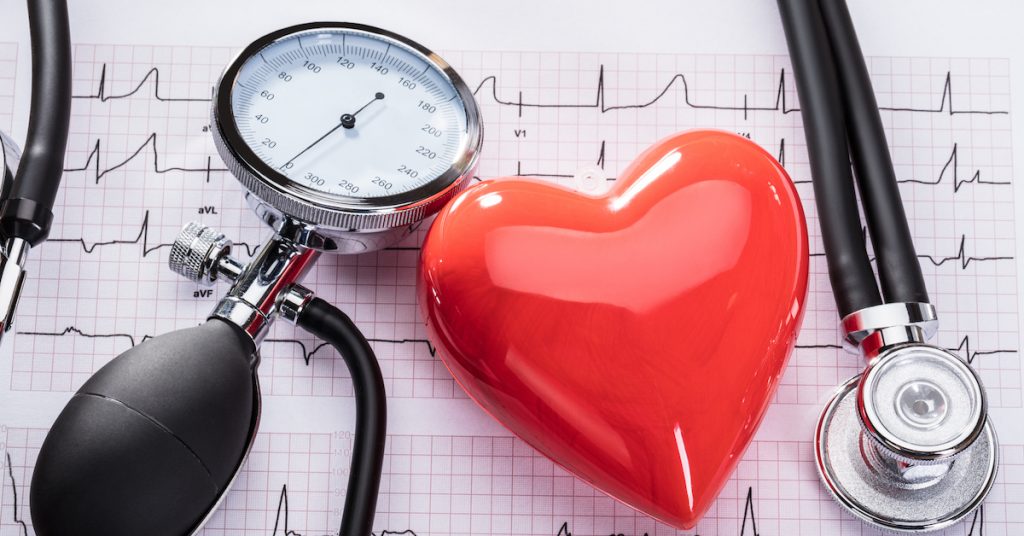 This Valentine's Day, love your heart by taking care of your blood pressure (bp). High blood pressure, or hypertension, is the number one risk factor for heart disease. It also puts you at risk for a number of other serious health conditions.
According to the Centers for Disease Control and Prevention (CDC), about 1 in 3 U.S. adults, or roughly 75 million people, fall into a higher than normal bp range. The National Institutes of Health (NIH) estimate that about two-thirds of those over 65 have high blood pressure, and that adults with normal readings at age 55 have a 90% chance of experiencing hypertension at some point in their lives.
High Blood Pressure Symptoms
Unfortunately, there are no noticeable high blood pressure symptoms. As a result, most people aren't aware of a blood pressure problem until they're alerted by a healthcare provider.
This makes it vitally important to monitor blood pressure on a regular basis. An accurate bp check is the only way to determine whether you need to make healthy lifestyle changes, or require medication, to reduce your risk of heart disease, stroke, and other life-threatening diseases.
The Dangers of High Blood Pressure
As your blood flows through your body, it exerts a force against the walls of your arteries, creating pressure. Over the course of the day, it's perfectly normal for your blood pressure to go up or down. If it remains elevated over time, however, it can put an added strain on your heart. This is because your heart has to pump harder just to keep the blood flowing.
Heart disease isn't the only problem. High blood pressure contributes to a number of other serious conditions, too, including:
Atherosclerosis (hardening of the arteries)
Blindness
Congestive heart failure
Kidney disease
Stroke
How High Blood Pressure Affects the Body
If high blood pressure isn't brought under control, it can lead to hardening of the arteries, which limits the flow of blood and oxygen to the heart. In addition to contributing to heart disease, this decreased blood flow can cause problems such as chest pain (angina), heart failure, and heart attack.
Your brain is impacted, too. High blood pressure can cause damage to the lining of an artery allowing a clot to form. This could create a blockage, or burst an artery, and cause a stroke, a condition that kills off brain cells from a lack of oxygen. This can result in serious disabilities that affect movement and speech. If not treated quickly, it can also be fatal.
Finally, the kidneys are another casualty of an elevated bp, especially among those patients/persons with diabetes. Roughly 1 in 5 adults with high blood pressure, and 1 in 3 with diabetes, experience chronic kidney disease which can lead to kidney failure necessitating being hooked up to a dialysis machine 3 times a week
How to Check Your Blood Pressure
Getting an accurate blood pressure measurement is quick and painless. A bp check can be performed at your doctor's office, your local FastMed clinic, a supermarket, or even at home. The only equipment required is a cuff, a pump, and a gauge.
The cuff is wrapped around the upper arm and inflated until it squeezes the area. As the cuff deflates, a stethoscope is used to monitor the pulse, while the gauge measures the pressure in your blood vessels.
Understanding Your Blood Pressure Reading
The following blood pressure chart shows the various pressure ranges for normal, prehypertension (indicating a higher than normal risk), and high blood pressure. The goal is to keep your blood pressure measurement at or below 120/80.
Anything higher than 120/80 puts you at risk for developing heart disease and other complications. A reading above 140/90 means you already suffer from hypertension, and may need to make lifestyle changes, or take medication, to bring your blood pressure under control.
Use the blood pressure chart below to determine whether your reading falls into the prehypertension or high range. If so, talk to your healthcare provider about steps you can take to improve your blood pressure measurement, and follow up by monitoring your bp regularly.
Blood Pressure Chart:
Normal: 120/80 or lower
Prehypertension: 120/80 – 139/89
High: 140/90 or higher
Where to Turn for Help.
If you're one of the many adults who fall into the prehypertension or high range, you'll want to be extra careful about routine blood pressure screenings. To make this easier, FastMed professionals offer convenient, accurate, bp checks during extended hours, at locations throughout Arizona, Texas, and North Carolina. In order to have your blood pressure evaluated at FastMed, the patient must complete an office visit.
No appointments are necessary. Simply walk in at your convenience. Or, check-in and register online first to save time.
About FastMed
FastMed Urgent Care owns and operates nearly 200 centers in North Carolina, Arizona and Texas that provide a broad range of acute/episodic and preventive healthcare services 365 days a year. FastMed also provides workers' compensation and other occupational health services at all its centers, and family and sports medicine services at select locations. FastMed has successfully treated more than six million patients and is the only independent urgent care operator in North Carolina, Arizona and Texas to be awarded The Joint Commission's Gold Seal of Approval® for quality, safety and infection control in ambulatory healthcare. For more information about locations, services, hours of operation, insurance and prices, visit www.fastmed.com.