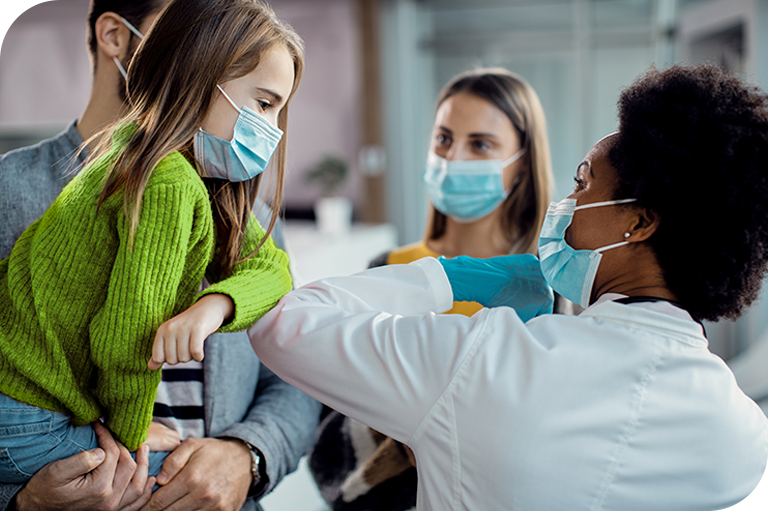 Remember flu and cold season? COVID-19 may still be getting the spotlight, but flu and cold season is now upon us as well – making it even harder to distinguish between COVID-19 and flu and cold symptoms.
What about the flu vaccine? Is it safe to get the flu vaccine and COVID-19 vaccine at the same time? And what's the difference between the two? FastMed is here to answer these questions and more.
Some flu facts
All COVID-19, all the time – it's been that way since 2020. But as we enter flu and cold season, it's important to know how to identify both COVID-19 and flu and cold symptoms and how vaccines can help prevent the spread of these two contagious viruses.
Let's focus on the flu for now. Flu is a respiratory illness that occurs when an influenza virus infects a person's respiratory tract (nose, throat, windpipe, bronchi and sometimes lungs). Flu symptoms range from mild to severe, but it is possible to die from the flu. Flu season typically begins in October and lasts until May, peaking between December and February.
Unlike COVID-19, influenza has been around for centuries. The best way to prevent the flu is by getting a flu vaccine each year. This includes kids, who can have the flu vaccine as young as six months old. Health experts continue to recommend getting a flu vaccine, especially this year.
Flu, meet COVID-19
Although COVID-19 and influenza are caused by different viruses, they both spread between people who are in close contact with one another – something that occurs more often as the weather gets colder.
It's very possible that the viruses that cause COVID-19 and the flu will spread in your community at the same time. And yes, it's possible for some people to become infected with COVID-19 and the flu at the same time.
The good news is that getting vaccinated for both COVID-19 and the flu can help reduce their spread. As the COVID-19 pandemic continues, it's more crucial than ever to get your flu vaccine as soon as possible. If more people are vaccinated for the flu, then fewer people will get sick with the flu or require flu-related hospitalization – leaving more resources available for COVID-19 patients.
Officially, the flu vaccine does not prevent you from becoming infected with COVID-19, although research has found that it might lower your risk of becoming infected. Research also confirms that getting a flu vaccine doesn't make you any more likely to develop COVID-19. In other words, these two vaccines can safely work together to help keep you healthy.
COVID-19 and flu and cold symptoms
Grab the Kleenex! As temperatures get colder and flu and cold symptoms increase, it can be hard to tell – what are flu symptoms vs. COVID-19? And what are cold symptoms vs. COVID-19?
COVID-19, the flu and even the common cold all have varying symptoms. In the case of COVID-19 and the flu, these symptoms can range from mild to severe. Some common symptoms that both the COVID-19 and flu viruses share include:
Fever or chills
Sore throat
Cough
Shortness of breath or difficulty breathing
Runny or stuffy nose
Fatigue
Muscle pain or body aches
Headache
Because so many of the flu symptoms vs. COVID-19 and cold symptoms vs. COVID-19 are similar, it can be difficult to diagnose a person based on their symptoms alone. FastMed offers COVID-19 testing to help determine if you are infected with COVID-19 or need cold and flu treatment.
A critical difference
Because COVID-19 is a new virus, most of us do not have any antibodies for it. With the flu, many people have at least some antibodies due to past exposure or past vaccines.
This may explain why COVID-19 is spreading more quickly and causes more fatalities than the flu. It can take longer for COVID-19 symptoms to show, and infected people may be contagious for longer as well.
Get your flu and COVID-19 vaccines today
Your local FastMed is the convenient place to go for vaccines, cold and flu treatment and so much more. FastMed offers COVID-19 vaccines at select clinics, while supplies last. We also offer walk-in flu shots seven days a week. Take this opportunity now to protect yourself and the ones you love!
About FastMed
FastMed is one of the nation's largest urgent care providers, proudly serving communities across North Carolina. FastMed provides a broad range of acute/episodic, preventive, and occupational healthcare – in its clinics and via telemedicine – as well as family medicine at select locations. FastMed is one of the few urgent care providers in the nation that has earned The Joint Commission's coveted Gold Seal of Approval® for quality, safety and infection control in ambulatory healthcare. For more information, visit www.fastmed.com.