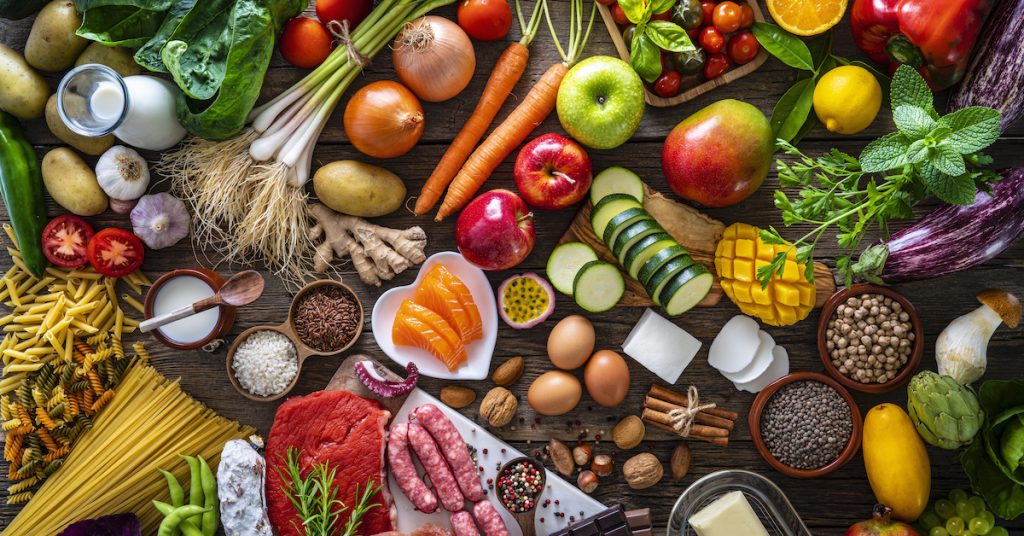 Keto. Low carb. Low fat. High protein. Intermittent fasting. With all the diet fads and trends out there, it's hard to define what a "healthy diet" is these days. Now is the perfect time to review these healthy diet tips and nutrition tips, so you can stay as healthy as possible.
Why a healthy diet matters
Consider these startling statistics. According to the Center for Science in the Public Interest (CSPI), four of the top ten leading causes of death are directly related to diet: heart disease, cancer, stroke, and diabetes. The CSPI estimates that unhealthy diets contribute to nearly 680,000 deaths each year in the United States.
Eating a healthy diet supplies the nutrients your body needs to work effectively. Without balanced nutrition, your body is more prone to disease, infection, fatigue, and other health threats. Children who don't eat enough healthy foods may face growth and development problems, poor academic performance, and more. They also are likely to develop unhealthy eating habits that persist into adulthood.
The good news is that you're never too young or too old to begin a commitment to healthy eating. Let's kick off these healthy diet tips with a simple formula for what should be on your plate.
Finding balance
A healthy, balanced diet includes a variety of foods from the following groups:
Fruits
Vegetables
Grains
Proteins
Dairy
A simple way to remember how much of each food group you should eat is by using the USDA's plate method:
Fill ½ of your plate with fruits and vegetables: Aim for color and variety, minus potatoes. They don't count here because of their negative impact on blood sugar.
Fill ¼ of your plate with grains: Grains like whole-wheat pasta, brown rice, and quinoa have less impact on blood sugar than white bread, white rice, and other refined grains.
Fill ¼ of your plate with proteins: Poultry, fish, beans, and nuts are healthy sources of protein. Limit red meat and avoid processed meats like bacon or sausage.
Add dairy on the side: Choose low-fat versions of milk, cheese, yogurt, and other dairy products. People who are lactose intolerant can opt for non-dairy products such as soy.
And that's it! Following this formula will help to ensure that your diet includes all five food groups and provides optimal nutrition.
The nutrients we need
Nutrition tips that include the words carbs and fats? Say it isn't so.
Many of today's popular diet trends limit certain foods or restrict them altogether, but the truth is that carbohydrates and healthy fats can and should be part of a balanced diet. The trick is choosing the right carbs and fats to eat.
Carbohydrates
The primary purpose of carbs in your diet is to provide fuel for your body, but not all carbs are created equal. Whole carbs are unprocessed and loaded with nutrients and fiber. Examples of whole carbs include vegetables, quinoa, barley, legumes, and whole grains.
Healthy fats
Many foods that contain unsaturated fats are excellent sources of nutrients, including avocados (one of nature's best sources for potassium and fiber), dark chocolate (one of the highest-testing foods for antioxidants, even more than blueberries), fatty fish (loaded with heart-healthy omega-3 fatty acids), and nuts (high in fiber, vitamin E, and magnesium).
Other healthy diet tips
Here are some additional diet tips to help you stay as healthy as possible:
Despite what social media and diet trends may be telling you, one of the most important rules of healthy eating is not skipping any meals, especially breakfast.
Eat a variety of foods. No single food provides all the nutrients your body needs.
Stop eating when you feel full to maintain your weight and feel your best.
Always keep a supply of healthy snacks on hand.
You don't necessarily have to give up all your favorite foods. For example, if you love pizza, a whole-wheat version with lots of fresh veggies can be a healthy choice.
FastMed is here to help you stay healthy. For more guidance on a healthy diet, please visit one of our family medicine clinics in North Carolina. Our providers are available to help you and your family live healthier lifestyles. To find a FastMed family medicine location near you, please click here.
About FastMed
FastMed Urgent Care owns and operates nearly 200 centers in North Carolina, Arizona and Texas that provide a broad range of acute/episodic and preventive healthcare services 365 days a year. FastMed also provides workers' compensation and other occupational health services at all its centers, and family and sports medicine services at select locations. FastMed has successfully treated more than six million patients and is the only independent urgent care operator in North Carolina, Arizona and Texas to be awarded The Joint Commission's Gold Seal of Approval® for quality, safety and infection control in ambulatory healthcare. For more information about locations, services, hours of operation, insurance and prices, visit www.fastmed.com.