Dear Dr. Kyle,
When I was a child, I remember getting sore throats a lot, and, eventually, I had my tonsils and adenoids removed. I remember that it hurt a lot, and I also remember eating a lot of ice cream; other than that, the whole event is pretty foggy. It has been 29 years, and I'm now wondering if my child will have to go through the same thing.
It seems like I've been taking her to FastMed Urgent Care a lot lately for sore throats and ear infections, and our FastMed physician recently recommended that we see a specialist. FastMed booked the appointment for us and sent over her medical records, which was great! Can you can tell me a little bit more about tonsil and adenoid removal before our specialist appointment?
Sincerely,
A Nervous Mom
A Message from Dr. Kyle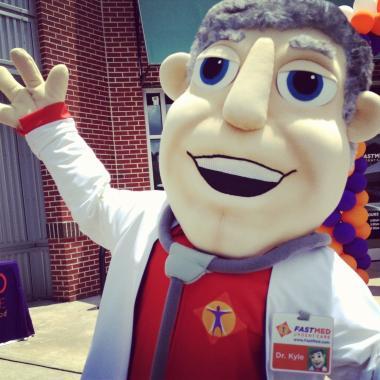 Dear Nervous,
Thanks so much for writing to me! I am happy to help. It sounds like your child has been suffering from recurrent tonsillitis and ear infections, which typically require antibiotic treatment. You've been doing the right thing by bringing her to FastMed to receive treatment. When tonsillitis and ear infections become a recurring problem, surgery is often the next step.
Our tonsils are glands located on both sides of the back of the mouth, and our adenoids are located behind the soft palate. When the adenoids swell, it can cause the middle ear to fill up with pus and become infected. When our tonsils swell, it can cause sore throat, fever, and painful and difficult swallowing.
Ear infections and recurrent tonsillitis are among the most common reasons children need their tonsils and adenoids removed. If your child does have to have surgery, there is no need to be nervous. Tonsillectomies and adenoidectomies are the second most common surgeries performed on children and typically only take about 30-45 minutes. The recovery period usually only takes 7-10 days and involves lots of ice cream!
I am so glad we were able to set you up with a specialist who can tell you more about tonsillectomies and adenoidectomies, and whether your child needs surgery or not. If you have any more questions before or after your appointment, don't hesitate to ask.
Sincerely,
Dr. Kyle