Using an Urgent Care Clinic
When you can't get in to a doctor's office, an urgent care clinic is a great alternative. According to the CDC, 80% of people who went to the emergency room for non-life threatening conditions did so because their doctor's office was closed or they had no other option.
A FastMed Urgent Care clinic is the other option: convenient, affordable, and open 365 days per year to treat common illnesses and minor injuries. When you go to the ER for a condition that needs immediate care, not emergency care, it will cost you a lot more than an urgent care clinic.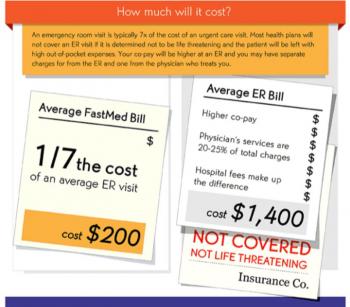 An Urgent Care Clinic at FastMed
Top of the Line Healthcare – Don't accept less than the best when it comes to your health. Every FastMed urgent care clinic is held to the highest medical standards in ambulatory (walk-in) care.
Best in Technology  – Everything we do at a FastMed Urgent Care clinic is designed to respect your time and comfort. You can fill out your registration forms before you come in and can pay your bills online if you prefer. Your medical records are digital and always up-to-date.
Quick Turnaround – At any FastMed urgent care clinic, our goal is to get you in to see a medical professional as quickly as possible. We do lab testing, take X-rays, and conduct EKGs on site. We don't see the point of coming to an urgent care clinic just to send you somewhere else.
Open When You Need Us – Every FastMed Urgent Care clinic offers extended hours, so you're welcome to come in before and after work or school. We're open 365 days per year, including holidays. We're community-based in North Carolina and Arizona – there's almost surely a FastMed location in your neighborhood.
Affordable – For patients who self-pay, the FastMed Discount Program helps to manage health care costs for you and your family.  Any FastMed urgent care clinic accepts most major types of insurance.
More Articles:  Walk in Health Clinic | Ear Infections  | Sports Medicine | Urgent Care vs Emergency Room  | Occupational Health Forms | Walk in Clinics