<![CDATA[
Urinary Tract Infection (UTI) is a common condition that can occur in males or females of all ages. At least 1/3 of all women in the United States will have been diagnosed with a urinary tract infection by the age of 24.  Although most urinary tract infections can be easily treated with antibiotics, there are exceptions in which the UTI can become very serious; therefore necessitating appropriate diagnosis and treatment.  If you are experiencing symptoms, visit a local urgent care clinic.
UTIs typically occur due to bacteria entering the urinary tract. Once in the bladder, it can rapidly spread and travel to the kidneys. Symptoms can vary depending upon which aspect of the urinary tract is infected.
Common UTI Symptoms
A painful, burning or stinging sensation while urinating
Urges to urinate often, but little to no urine comes out
The belly feels tender
Cloudy or foul-odor urine
A pain on one side of your back (where the kidneys are located)
Fever
Urinary Tract Infection Treatment
Antibiotics remain the most common and effective treatment for urinary tract infections. Prompt evaluation and treatment are vital in preventing a simple infection from becoming a life-threatening condition.  Drinking cranberry juice and water may help prevent urinary tract infections. Additionally, avoiding very tight clothing, as well as avoiding of a lot of bladder irritants such as alcohol, soft drinks, sugary drinks, wiping front to back, emptying your bladder after intercourse and avoidance of irritating feminine products (douches, creams and lotions) may also reduce your chances of developing a UTI. 
FastMed Urgent Care Can Help
FastMed Urgent Care prides itself on fast, efficient and cost effective care. Each location features a team of highly qualified medical providers who are ready to serve you. The staff can readily evaluate your UTI symptoms and tailor treatment specific to your condition. Staff can even provide you with onsite medications, saving you valuable time and money by leaving the clinic with your medications in-hand. FastMed Urgent Care clinics offer convenient, immediate care seven days a week, 365 days a year. If you or family members are experiencing symptoms of a urinary tract infection, please do not hesitate to visit your local neighborhood FastMed Urgent Care. 
Wendell C. John, RN, MSN, FNP-C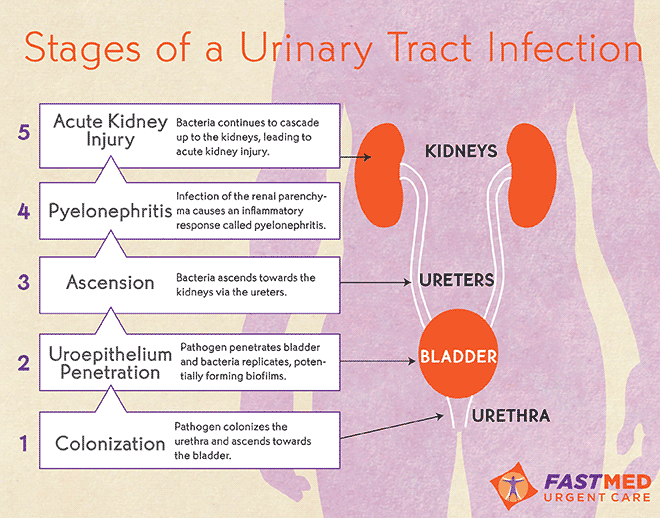 ]]>