Sinus infections that follow viral infections in the upper respiratory tract, such as the common cold or the flu, are considered viral sinus infections. These types of sinus infections are extremely common and can often be easily treated.
Since viral sinus infections are caused by viruses and not bacteria, antibiotics are not used to treat them. Instead, treatment for viral sinus infections is aimed at reducing inflammation in the nasal passages and ridding them of infection through over-the-counter medications or home remedies.
Home Remedies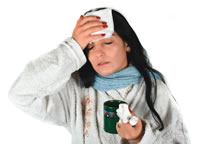 Home remedies are often a great way to relieve discomfort caused by a sinus infection until the infection passes. Some common viral sinus infection home treatment methods include:
Promoting drainage by staying hydrated, drinking hot tea, and inhaling steam 2-4 times a day.

Irrigating the nasal passages with a saline solution (most medical professionals recommend using a Neti-pot).

Using a humidifier to keep the air around you moist and prevent your sinus from drying out.
Over-the-Counter Medications
Over-the-counter medications are some of the best options for treating viral sinus infections. Options include:
Painkillers, like ibuprofen or acetaminophen, for relieving pain associated with sinus pressure and swelling.

Decongestants, such as Afrin or Sudafed, to reduce the amount of mucus in the sinuses and relieve pressure.

Allergy medicines, like antihistamines, to reduce viral sinus infection symptoms caused by uncontrolled allergies.

Steroids to reduce swelling in the sinuses and relieve pressure.
Although supplies for home remedies and over-the-counter medications can be purchased without a prescription from a medical professional, it is always a good idea to seek medical treatment at the first sign of a sinus infection.
A medical professional will be able to rule out the possibility of other causes and determine whether your sinus infection is caused by a virus or bacteria—in which case you could need an antibiotic.
So, if you are experiencing the symptoms of a viral sinus infection, we visit the medical professionals at your local FastMed Urgent Care for treatment. We are open 365 days a year, making it easy for you to get the medical treatment you need at a time that is convenient for you.
About FastMed
FastMed Urgent Care owns and operates nearly 200 centers in North Carolina, Arizona and Texas that provide a broad range of acute/episodic and preventive healthcare services 365 days a year. FastMed also provides workers' compensation and other occupational health services at all its centers, and family and sports medicine services at select locations. FastMed has successfully treated more than six million patients and is the only independent urgent care operator in North Carolina, Arizona and Texas to be awarded The Joint Commission's Gold Seal of Approval® for quality, safety and infection control in ambulatory healthcare. For more information about locations, services, hours of operation, insurance and prices, visit www.fastmed.com.