Injuries and illnesses are a round-the-clock ordeal and you may find yourself in need of a walk-in clinic open late. In Phoenix, Arizona, FastMed stays up late for you.
FastMed has two new walk-in clinics open late in Phoenix on West Indian Road and East Thunderbird Road. We're open until 8 pm Monday through Saturday and until 4 pm on Sundays and holidays. Phoenix has nine FastMed locations, but be sure to visit our new locations for extended service with extended hours.
FastMed does not require appointments, but patients are free to use our ZipPass option on our website. With ZipPass, you can check in to reserve a spot in line and print the paperwork that will save you even further time upon your arrival.
Walk-in, Walk-out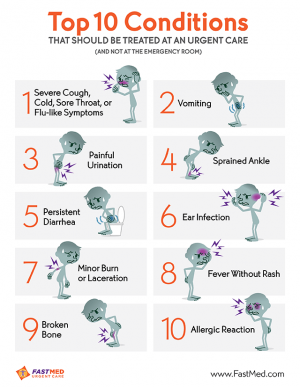 FastMed's goal is to have every patient treated by one of our medical professionals within an hour of their visit. Our walk-in clinics, which are open late, in Phoenix, AZ, can:
Treat non life-threatening injuries including stitches and broken bones with our on-site digital x-ray machines
Test for diseases or drugs through blood or urine with our on-site labs
Provide over-the-counter and prescription medication on the spot with our broad supply of remedies
Administer physicals, vaccines, and occupational health services
Perform sexual and gynecological exams
Among walk-in clinics open late in Phoenix, AZ, FastMed's array of amenities and options set us apart. We welcome uninsured patients with a flat-fee discount program and accept most major insurance companies for those with insurance. Our staff of medical professionals is highly-trained in both adult and pediatric care.
For a walk-in clinic open late in Phoenix, Arizona, come to FastMed. We'll stay up for you!