Your Walk-In Health Clinic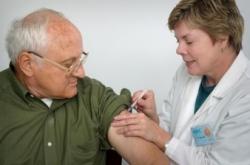 Every FastMed Urgent Care location in NC and AZ is a walk-in health clinic – just type in your zip code to find a clinic location near you. There's no appointment necessary at any of FastMed's walk-in clinic locations, and we're open every day of the year, including holidays. If you need immediate care for minor illness or injury, such as strep throat, a sinus infection, a sprained ankle, or an aching back, just come by. We also help monitor chronic conditions, like high blood pressure or diabetes, and have labs on site for quick and accurate test results at every walk-in health clinic.
Adult Services at a FastMed Walk-In Health Clinic
FLU: One in five Americans suffer from the flu each year. The CDC recommends everyone over 6 months of age get a flu shot. Keep in mind that the flu season starts as early as October.
Pregnant women, adults over 65, and people with chronic medical conditions (asthma, diabetes, heart disease) are at higher risk for flu complications
Pneumonia, bronchitis, and sinus infections are examples of complications from the flu
During a "typical flu season," 90% of deaths from flu complications occur in people over 65
SOLUTION: Get your flu shot at any FastMed Urgent Care walk-in health clinic. If you experience flu symptoms, get to our nearest walk-in health clinic as soon as possible. Antiviral drugs, particularly if received in the first two days of symptom onset, may lessen the severity and duration of the flu.
FALLS: According to the CDC, "One in three adults aged 65 or older fall each year, but fewer than half talk to their healthcare providers about it."
Falls are the leading cause of both fatal and nonfatal injuries in older adults
Rates of fall-related fractures in women are more than 2X the rates in men
Falling can reduce your mobility or cause isolation and depression, depending on the injury
SOLUTION: First, if you fall, come to your nearest FastMed walk-in health clinic and let us know. We can review your medications to make sure there is nothing causing dizziness or imbalance. We can also test you for osteoporosis to minimize risk of fracture. Your best defense against falls is to exercise and have your vision regularly checked.
IMMUNIZATIONS: Don't count on the vaccines received as children to protect you. Immunity can fade over time, and more effective vaccines have become available.
Every year, more than 1 million people suffer from the severe pain of shingles. If you are 60+, there is a vaccine to help prevent it
Because of vaccines, smallpox, polio, and diphtheria have virtually been eliminated
More than 30,000 cases of invasive pneumococcal disease (meningitis and bacterermia) occur in the U.S. each year.
SOLUTION: At a FastMed walk-in health clinic, we catch you up on the vaccines that protect your health. Make sure to tell us about your medical history and discuss any questions or concerns you might have. The CDC has a great fact sheet on what adult vaccines are appropriate – take a look at it here.
More Articles: High Blood Pressure | Blood Glucose Test Level | Treatment For Flu | Lumbago | Clinics | Flu Shot Locations
About FastMed
FastMed Urgent Care owns and operates nearly 200 centers in North Carolina, Arizona and Texas that provide a broad range of acute/episodic and preventive healthcare services 365 days a year. FastMed also provides workers' compensation and other occupational health services at all its centers, and family and sports medicine services at select locations. FastMed has successfully treated more than six million patients and is the only independent urgent care operator in North Carolina, Arizona and Texas to be awarded The Joint Commission's Gold Seal of Approval® for quality, safety and infection control in ambulatory healthcare. For more information about locations, services, hours of operation, insurance and prices, visit www.fastmed.com.