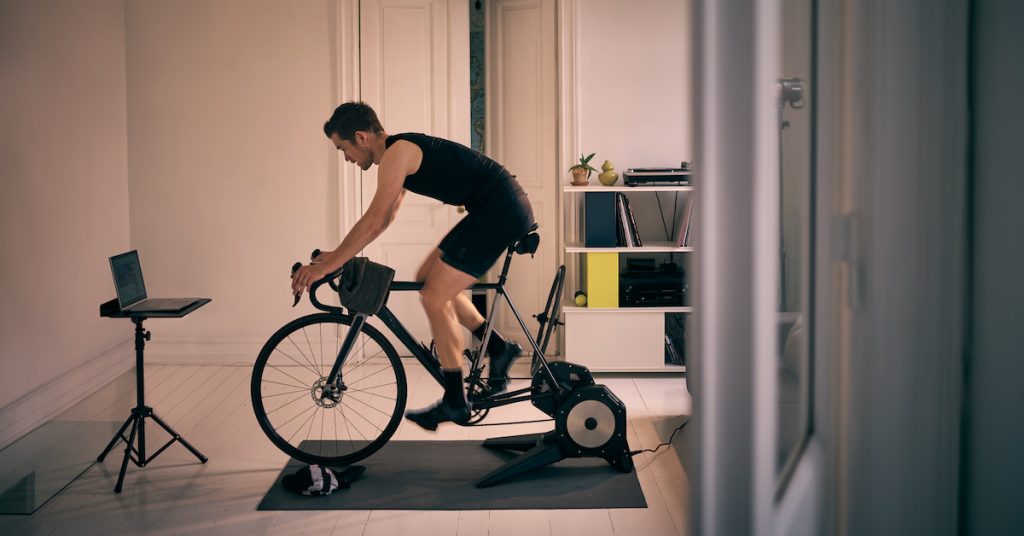 With the arrival of summer, there will inevitably be days when temperatures are too hot for outdoor training. It is possible to create fun and effective indoor workouts for summer that don't require a gym membership or tons of expensive equipment.
What Should I Include in My Indoor Workouts?
The most effective indoor workouts include a combination of aerobic exercise, strength training, flexibility, and stretching exercises, balance training, and core exercises. It isn't necessary to include every element in each of your workouts; however, you should make sure that your overall fitness regimen includes a balance of each type of activity.
What Are Some Exercises to Include in an Indoor Fat-Burning Workout?
If your workout goal is weight loss and a toned body, then an indoor fat-burning workout may be just the ticket for you. Instead of hitting the treadmill or elliptical, consider an equipment-free indoor fat-burning workout that includes the following:
Running Pyramids: Run in place for two steps while making sure to raise your knees to hip level. Pause for one second, and repeat the process adding an additional step each time.
Up-and-Down Planks: Get into a plank position with your hands and feet shoulder-width apart and tighten your core. Lower yourself down onto your forearms one at a time and then place one hand under one shoulder and straighten. Repeat with the other hand so that you are back into the plank position.
Lizard Lunges: Start by assuming a plank position with your hands and feet shoulder-width apart. Bring one foot forward so that it is flat with the corresponding hand and then immediately switch legs.
Power Squats: Squat with your arms in front with palms down and your feet wider apart than your hips. Do a quick jump to bring your feet inward to hip-width. Jump again to bring your feet into a narrow squat.
Why Are Indoor Aerobic Exercises Important?
Aerobic exercise, also known as cardio or endurance exercise, is any physical activity that utilizes large muscle groups and increases the heart rate. According to the U.S. Department of Health and Human Services, adults should get at least 75 minutes of vigorous aerobic activity or 150 minutes of moderate activity each week. Indoor aerobic exercises force you to breathe faster and more deeply, which increases blood oxygen levels. Your heart also pumps faster, which increases blood flow and oxygen delivery to vital organs and muscles. Aerobic fitness helps the heart and lungs to work more efficiently, which makes it easier to perform daily tasks or short bursts of intense activity, such as running to your car in the pouring rain.
How Can I Create a Fun Indoor Cardio Workout?
If you have the space and money, a simple jump rope or basic stationary bike can make for an effective and fun indoor cardio workout. If you are looking for something a little more intense, you can try the following exercises:
Mountain Climber: Start by getting into a high plank position. Bring one knee out and up toward your triceps. Alternate sides as quickly as possible while turning your head slightly so that you can watch your knee meet your arm.
Cross-Cross Pick Up: Start in a standing position with your feet shoulder-width apart and your knees slightly bent. Squat down to touch the floor and then jump up quickly while crossing one foot over the other. Repeat crossing the opposite foot in front.
Boxer Stance: This move can be incorporated between other exercises as an active rest. Between squats, lunges, jumping jacks, and other exercises, stand on the balls of your feet with your dominant foot slightly behind your other foot and your fists in front of you like a boxer. Gently bounce from foot to foot for 10 to 15 seconds as you rest between your other exercises.
How Can I Do Strength Training with Indoor Calisthenics?
Calisthenics is one of the simplest forms of exercise that uses resistance and your own weight to build strength, coordination, and flexibility. Calisthenic exercises are the only way that you can build muscle mass and strength without weights. Examples of indoor calisthenics include:
Pushups
Pull-ups
Squats
Burpees
Crunches
You can also do strength training with inexpensive resistance bands or homemade weights, such as soft drink bottles filled with water or sand.
FastMed wants to partner with you and your family for better health and fitness. For routine checkups, our providers can help you achieve your health goals. Call or stop by one of our clinics today to learn more. We have more than 100 locations throughout Arizona, North Carolina, and Texas, and we are ready to serve you seven days a week.
About FastMed
FastMed Urgent Care owns and operates nearly 200 centers in North Carolina, Arizona and Texas that provide a broad range of acute/episodic and preventive healthcare services 365 days a year. FastMed also provides workers' compensation and other occupational health services at all its centers, and family and sports medicine services at select locations. FastMed has successfully treated more than six million patients and is the only independent urgent care operator in North Carolina, Arizona and Texas to be awarded The Joint Commission's Gold Seal of Approval® for quality, safety and infection control in ambulatory healthcare. For more information about locations, services, hours of operation, insurance and prices, visit www.fastmed.com.