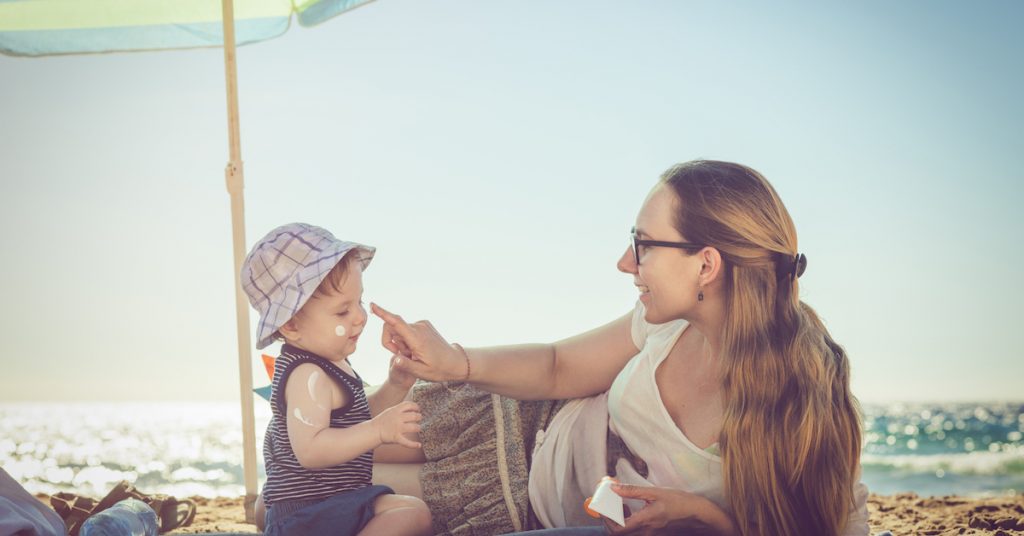 We all want the sun-kissed glow of a summer tan. Unfortunately, tanning and sunburns can lead to permanent skin damage, including premature aging and even skin cancer. The following guide will help you know how to avoid sunburn damage and discomfort.
What Are the Harmful Effects of the Sun?
The most immediate effect of too much sun exposure is a sunburn. Your skin becomes red, warm to the touch, and painful, and the damaged top layer of skin will typically start to peel. In the case of a second-degree burn, the skin will blister. Repeated exposure to ultraviolet light from the sun and tanning beds will damage the elastin fibers in the skin so that the skin appears wrinkled, leathery, and dry. In addition to the cosmetic effects of premature aging, the harmful effects of the sun also include potentially deadly conditions, such as basal cell carcinoma, squamous cell carcinoma, and melanoma.
Who Needs to Worry About How to Avoid Sunburn Damage?
Everyone needs to know how to avoid sunburn skin damage regardless of their age, skin tone, or whether they tan easily. While a sunburn is the most immediate and obvious effect of too much sun exposure, the damage to the skin actually accumulates over your lifetime. By knowing how to reduce sunburn and skin damage, you can prevent most types of skin cancer.
What Are the Best Tips to Avoid Sunburn Damage?
Of all the tips to avoid sunburn damage, the most important recommendation for reducing sunburn skin damage is to wear a quality sunscreen with a sun protection factor (SPF) of at least 30. You should apply the sunscreen liberally to all exposed parts of the body, including the lips, ears, face, and the backs of the hands at least 30 minutes before going outdoors—even if it is a cloudy day. It is important to reapply the lotion every two hours if you get wet or perspire heavily. If you have skin sensitivities, ask your healthcare provider or dermatologist to recommend a brand that is specially formulated for sensitive skin. You should also avoid tanning oils, which generally do little to protect the skin from the damaging effects of the sun or tanning beds.
Other measures include staying indoors or in the shade during the middle of the day when the sun's rays are the strongest, wearing a broad-brimmed hat and sunglasses to protect the eyes and head, and wearing protective clothing that covers the skin.
What Are the Best Tips to Avoid Sunburn Pain?
The following sunburn tips can help to alleviate your discomfort if you do get too much sun:
Get out of the sun immediately if you notice your skin turning pink.
Cool your skin by taking frequent cool baths or showers.
Apply a moisturizer containing aloe or soy to keep the skin from becoming dry. You can also use hydrocortisone cream; however, you should avoid benzocaine or another "caine" products since they can irritate the skin or trigger an allergic reaction.
Drink extra fluids to remain hydrated since a sunburn draws fluid to the surface of the skin.
Reduce pain and inflammation by taking ibuprofen or aspirin.
Protect your skin as it heals by wearing loose, tightly woven clothing.
Never pop any blisters that may form since this can cause infection.
What Should I Know About How to Reduce Sunburn Risk for Children?
One recent study showed that preventing sunburns through the age of 18 can reduce the risk of skin cancer later in life by as much as 72%. Most sunscreens are suitable for use in children over the age of six months. You can protect younger children by keeping them in the shade and covering them with protective clothing and hats. It also is important to remember that children are more susceptible to dehydration from sunburns, so encouraging them to drink plenty of fluids is important.
From treating sunburns and minor injuries to routine physicals and immunizations, FastMed is your one-stop source for all of your family's summer health needs. We have more than 100 convenient locations throughout Arizona, North Carolina, and Texas, our providers are available seven days a week, and you never need an appointment. We also know that your time is valuable, so we offer online registration and check-in to make your visit as fast and convenient as possible.
About FastMed
FastMed Urgent Care owns and operates nearly 200 centers in North Carolina, Arizona and Texas that provide a broad range of acute/episodic and preventive healthcare services 365 days a year. FastMed also provides workers' compensation and other occupational health services at all its centers, and family and sports medicine services at select locations. FastMed has successfully treated more than six million patients and is the only independent urgent care operator in North Carolina, Arizona and Texas to be awarded The Joint Commission's Gold Seal of Approval® for quality, safety and infection control in ambulatory healthcare. For more information about locations, services, hours of operation, insurance and prices, visit www.fastmed.com.