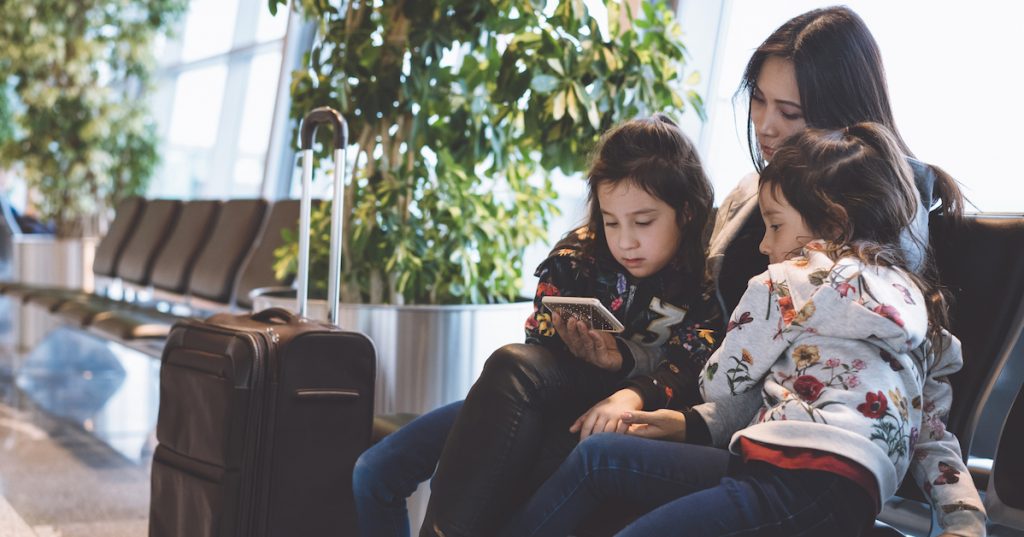 An unexpected illness is a surefire way to derail a long-anticipated vacation. While there is no need to be more paranoid about germs while traveling than at home, the following prevention tips from FastMed can help you stay well while traveling.
What Should I Do Before My Trip to Prevent Getting Sick?
Everyday healthy habits that you follow at home can also help you prevent getting sick while traveling. Getting plenty of sleep, regular exercise, and staying hydrated not only helps the mind and body recover from physical activity and ensure proper immune system function, but they also can help minimize the effects of jet lag. You may even want to consider taking vitamin C, elderberries, or a supplement to help boost your immune system in preparation for your trip.  
As you pack for your trip, consider creating a small medical kit to put in your carry-on that includes any prescription medications that you may be taking, along with over-the-counter remedies for allergies, headaches, constipation, and diarrhea, as well as adhesive bandages, gauze, antibiotic ointment, and cortisone cream to treat any skin allergies.
What Are the Best Tips to Avoid Getting Sick from Bacteria and Viruses While Traveling?
No list of sickness prevention tips would be complete without mentioning the importance of good hand hygiene and not touching your face. Frequent and thorough hand washing can stop most common bacteria and viruses in their tracks. At a minimum, you should wash your hands after going to the restroom, before handling foods or beverages, when they appear visibly soiled, and after touching frequently handled or noticeably dirty objects. According to the Centers for Disease Control and Prevention, you should wash your hands for at least 20 seconds using soap and water. An alcohol-based sanitizer can be used if soap and water are not available.
What Are the Best Tips to Avoid Getting Sick from Foodborne Illnesses While Traveling?
Food is one of the best ways to experience the culture of another country, but it also can lead to foodborne illness, especially in areas with limited sanitation. The following are ways to avoid getting sick as you enjoy the local flavor:
Opt for bottled, canned, or hot drinks, and avoid tap water and ice cubes
Avoid undercooked or raw foods, and fruits or vegetables washed in tap water
Avoid foods from street vendors and market stalls
Are There Ways to Avoid Getting Sick from Bug Bites While Traveling?
Insects, especially mosquitoes, can carry a number of serious diseases ranging from West Nile and Zika to malaria and dengue fever. The type and level of protection that you will need depends on where you are traveling, as well as the types of activities you will be engaging in during your trip. In general, an insect repellent containing 25% to 35% DEET should provide adequate protection. If you require more extensive coverage, you may want to consider wearing clothing treated with permethrin.
What Are the Best Ways to Prevent Getting Sick on a Plane?
While planes are certainly not the cleanest of environments, they are actually no dirtier than schools, offices, and other public locations. In fact, you are more likely to become infected by bacteria and viruses while at the airport restaurant or standing in line at the ticket counter; however, we recommend the following tips to avoid getting sick:
Choose a window seat on the plane since the fresh air exits from vents by the window
Use antibacterial wipes to clean armrests and tray tables
Bring your own travel pillow and blanket instead of using the one provided by the airline
Where Can I Get Help if I Do Get Sick While on Vacation?
If you do get sick while on vacation, our FastMed providers are available to help you feel better faster by offering online check-in and e-registration. Also, with more than 100 FastMed clinics throughout Arizona, Texas, and North Carolina, we're never far away.
About FastMed
FastMed Urgent Care owns and operates nearly 200 centers in North Carolina, Arizona and Texas that provide a broad range of acute/episodic and preventive healthcare services 365 days a year. FastMed also provides workers' compensation and other occupational health services at all its centers, and family and sports medicine services at select locations. FastMed has successfully treated more than six million patients and is the only independent urgent care operator in North Carolina, Arizona and Texas to be awarded The Joint Commission's Gold Seal of Approval® for quality, safety and infection control in ambulatory healthcare. For more information about locations, services, hours of operation, insurance and prices, visit www.fastmed.com.