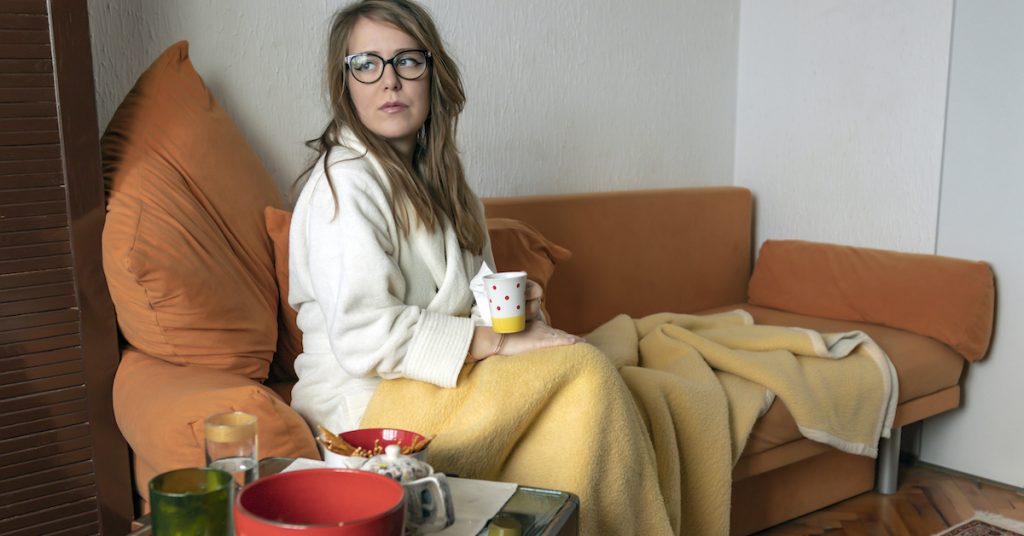 From excess pounds caused by lack of exercise and too many comfort foods, to common viruses, staying healthy in winter can be a challenge. The following winter health tips from FastMed will help you avoid the most common winter health pitfalls.
What Are Some Ways to Stay Healthy and Safe at Home During the Winter?
Staying healthy in winter starts with preparing your home. We rely on fireplaces, furnaces, and other heating systems to keep us warm and snug. Unfortunately, these systems are also a common source of injuries and illnesses. The following are a few tips to stay healthy and safe while cooped up indoors:
Have your heating system professionally inspected and serviced to ensure that it is clean, properly vented, and in good working order.
Have your fireplace and chimney inspected and cleaned annually to reduce the risk of chimney fires.
Place a screen in front of the fireplace whenever it is in use to serve as a barrier for pets and children and to prevent logs and sparks from escaping the fireplace.
Install smoke and carbon monoxide detectors on each level of your home. You should test the batteries at least monthly, and you should change the batteries at least twice a year.
Make sure every family member knows the symptoms of carbon monoxide poisoning. Symptoms include dizziness, headache, confusion, chest pain, nausea, and vomiting. If you experience any of these symptoms, get outdoors as soon as possible and call 911.
What Are Some Ways to Stay Healthy and Safe During Winter Travel?
FastMed recommends the following tips to stay healthy and safe while traveling this winter:
If you must travel during inclement weather, be sure to check weather forecasts and road conditions before you leave.
Check your tires and fluids before hitting the road.
Make sure your cell phone is fully charged.
Pack an emergency kit that includes snacks, water, flashlights, batteries, first-aid supplies, blankets, essential medicines, and other emergency supplies in case you become stranded.
What Are Some Tips for Staying Healthy During Flu Season?
With more people staying indoors in close quarters, flu cases tend to spike during the winter months. The most effective method for staying healthy during flu season is to make sure everyone in your household over the age of six months gets the annual flu vaccine. Even though it is best to get the vaccine before the virus is widespread, it is still not too late. We offer affordable flu vaccines at all of our FastMed locations. Washing your hands frequently with soap and water, especially after being out in public, will also help you avoid many common winter respiratory and stomach viruses.
What Are Some Diet and Exercise Tips to Stay Healthy This Winter?
It is very easy to resort to mindless eating and high-calorie comfort foods to deal with the boredom of hibernating indoors for days on end. While it is okay to eat comfort foods in moderation, the following are a few ways to stay healthy and keep the diet and exercise resolutions that you made a few weeks ago:
Start the day with a hearty breakfast, such as oatmeal. Oats are full of vitamins and minerals that will provide you with an energy boost, as well as fiber to keep you feeling fuller for longer. You can even add your favorite fruit to make sure you meet the recommended five servings a day of fruits and vegetables.
Increase your dairy intake. This will ensure that you get enough vitamin D, which can improve your immune system function, as well as your mood and energy level.
Take advantage of winter vegetables, such as carrots, turnips, and parsnips, to make healthy and comforting casseroles and soups.
The shorter days of winter can disrupt your sleep cycle and leave you feeling sluggish. Try to maintain a consistent sleep/wake schedule even on the weekend. You should allow for seven to nine hours of sleep a night.
Find new activities that will allow you to remain physically active even if it is too cold to be outside. For example, you can walk indoors at a local mall or museum or put on some music and have a family dance-off after dinner.
If you start feeling under the weather this winter, visit your nearest FastMed clinic. We have more than 100 locations throughout Arizona, Texas, and North Carolina, so it is easy to find an experienced, qualified FastMed provider in your neighborhood. We also make treatment fast and convenient by allowing you to skip the line with PriorityAccess when you check in online and complete your e-registration.
About FastMed
FastMed Urgent Care owns and operates nearly 200 centers in North Carolina, Arizona and Texas that provide a broad range of acute/episodic and preventive healthcare services 365 days a year. FastMed also provides workers' compensation and other occupational health services at all its centers, and family and sports medicine services at select locations. FastMed has successfully treated more than six million patients and is the only independent urgent care operator in North Carolina, Arizona and Texas to be awarded The Joint Commission's Gold Seal of Approval® for quality, safety and infection control in ambulatory healthcare. For more information about locations, services, hours of operation, insurance and prices, visit www.fastmed.com.