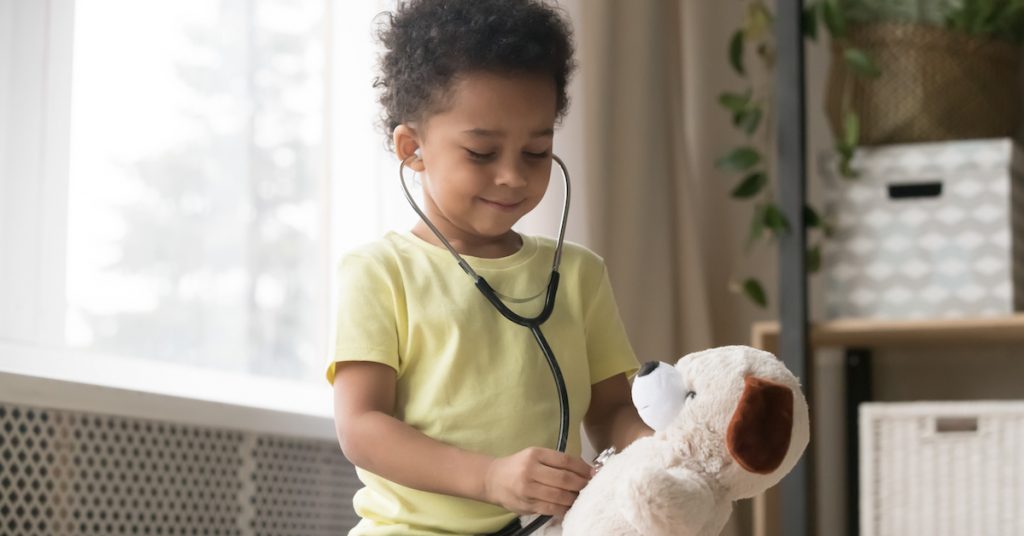 From excessive screen time to diets filled with processed convenience foods, many children and teens are at increased risk for heart disease as adults. The following diet and lifestyle tips from FastMed will help your child keep their heart healthy well into adulthood.
What Are Some Ways My Child Can Improve Their Cardio Health?
Adding even one or two things that are good for your heart into your daily routine can have a huge impact on your overall health. The following are a few steps that you can take as a family that don't require a lot of time or cost a lot of money:
Limit TV, phone, and computer screen time to no more than two hours a day.
Make physical activity a family affair by going for walks or playing games together outside.
No one is going to go from couch potato to athlete in a week, so set realistic goals and limits and celebrate the small successes.
Plan and cook meals as a family. Even picky eaters are more likely to try something new if they had a hand in preparing it.
Assign your child chores that require physical activity.
Make sure the entire family gets annual physicals.
What Are Indicators of Good Cardio Health in Kids?
According to the American Heart Association, the following are the essential components of good heart health in children and teens:
Avoid using any tobacco products, including e-cigarettes: The nicotine in tobacco products damages blood vessels and contains some of the same chemicals found in hazardous substances ranging from insecticides to nuclear waste.
Be physically active: Children should get at least one hour of moderate to vigorous physical activity each day.
Eat foods that are good for your heart: A heart-healthy diet includes lean proteins, whole grains, and fresh fruits and vegetables.
Maintain a healthy weight: According to the American Heart Association, approximately one-third of American children are overweight or obese, which increases their risk of heart disease, diabetes, and other chronic health conditions. Your health care provider can determine if your child is at a healthy weight based on their age and current height and weight.
Maintain healthy blood pressure, cholesterol, and blood sugar levels: Your healthcare provider can help you determine the appropriate goals for each of these numbers since they can vary with your child's age.
How Can I Encourage My Child to Eat Heart-Healthy Recipes?
Children and teens are notoriously picky eaters, so getting them to ditch the chicken strips and fries for heart-healthy recipes can be a challenge. The following are a few strategies can make it easier to get kid-friendly, healthy meals on the table:
Opt for homemade foods instead of processed or already-prepared foods. This does take a little more time and planning; however, it allows you to control the quality of the ingredients as well as the salt and sugar content.
Go grocery shopping with your kids. This is the perfect opportunity to teach them how to read nutrition labels and choose foods that are good for the heart.
Don't be afraid to hide extra vegetables in your family's favorite recipes. For example, you can swap out some of the cheese in macaroni and cheese with squash or pumpkin puree without it drastically changing the taste or the texture.
Replace some of the salt you use when cooking with fresh or dried herbs and spices.
What Are Some Snack Foods That Are Good for Your Heart?
When kids come home from school hungry, it is only natural for them to reach for the quickest snack option available, which usually means something salty or sugary and loaded with calories. Having precut and washed fruit and veggie slices, hummus dip, nuts, low-fat string cheese, and other healthy options on hand will allow your child to make better snack choices.
What Are Some Heart-Healthy Drinks for Kids?
A single soda can contain up to eight ounces of sugar, which is more than anyone should have in a day. Heart-healthy drinks include water, low-fat and unsweetened milk and plant-based milk alternatives, and unsweetened fruit juices.
Of course, one of the best ways to get your child to adopt heart-healthy habits is to make a healthy lifestyle a priority for your whole family. If your child sees you doing things that are good for your heart, they are more likely to adopt those same habits.
For more information about healthy lifestyle choices, weight management, and physicals, our Family Medicine clinics in North Carolina are available to guide you and your family. To find a Family Medicine location near you, please click here.
About FastMed
FastMed Urgent Care owns and operates nearly 200 centers in North Carolina, Arizona and Texas that provide a broad range of acute/episodic and preventive healthcare services 365 days a year. FastMed also provides workers' compensation and other occupational health services at all its centers, and family and sports medicine services at select locations. FastMed has successfully treated more than six million patients and is the only independent urgent care operator in North Carolina, Arizona and Texas to be awarded The Joint Commission's Gold Seal of Approval® for quality, safety and infection control in ambulatory healthcare. For more information about locations, services, hours of operation, insurance and prices, visit www.fastmed.com.