If you've ever had a sore throat, chances are you've stood in front of a mirror, craning your neck to get a good look at the cause of your discomfort. The appearance will vary depending on the cause of your symptoms. It is important to ask questions–like "what does strep throat look like?"–so you can know when your sore throat needs immediate medical treatment, and when it can be treated at home. FastMed Urgent Care can help you learn the difference between a sore throat and strep throat, as well as provide you with treatment quickly and conveniently.
What Does Strep Throat Look Like? Get the Answer at FastMed Urgent Care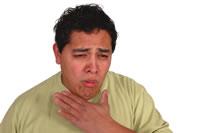 There are different causes of a sore throat. Here are the three most prominent causes:
Bacterial infections (strep throat, upper respiratory infection)
Viruses (common cold, the flu, mononucleosis)
Allergies (pollen, pet dander, dust)
When determining whether or not your sore throat is caused by strep throat, it is important to know what strep throat looks like. The appearance of strep throat is typically very different than the appearance of other causes of sore throat. Since strep throat is caused by a bacterial infection, the symptoms are typically more noticeable.
So, what does strep throat look like? If you have strep throat, you may be able to see all, or just a few, of these common symptoms:
Swollen, red throat and tonsils
Swollen uvula
Tiny red dots along the back of the throat and tongue
White patches or spots on the tonsils
A gray, furry film on the tongue

Strep throat is typically easy to cure with a course of antibiotics. If it is left untreated, however, it can lead to more serious conditions. FastMed has extended hours, 365 days a year. If you have looked at your throat and noticed any of these symptoms, visit FastMed Urgent Care as soon as possible.