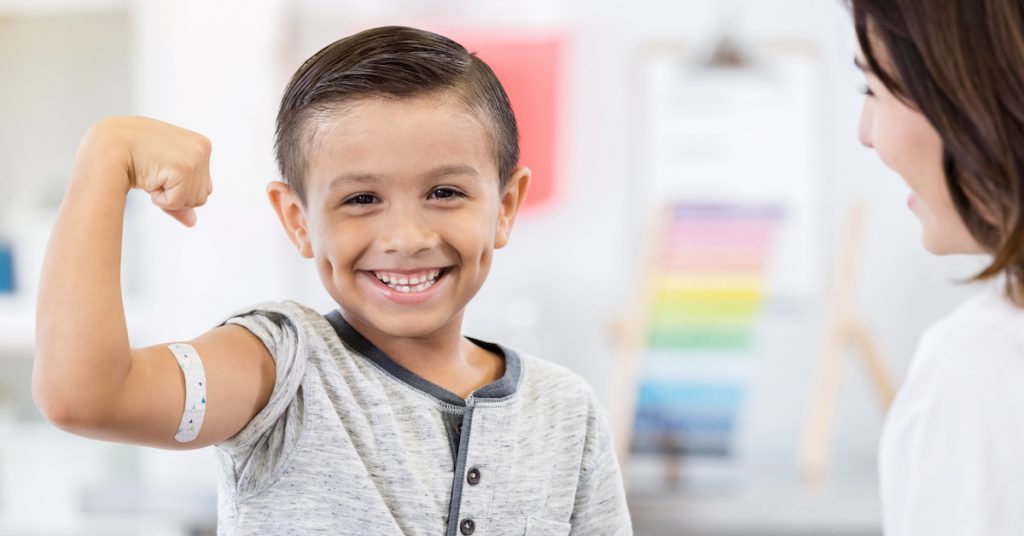 Vaccinations are the most effective way to protect your family against deadly diseases ranging from whooping cough to influenza. The following information from FastMed will help you determine where to get vaccinated and prepare you for your vaccine clinic visit.
When Should I Take My Child to a Vaccine Clinic?
Timely vaccinations protect your child from potentially life-threatening diseases they might encounter as their immune system develops. Vaccines use dead or weakened versions of viruses, bacteria, or toxins to stimulate the body's immune system so it can fight the disease faster and more effectively. Ensuring that your entire family is appropriately vaccinated not only protects you, but it also helps to protect those in the community who may be too young to be fully vaccinated or who may have health conditions that prevent them from getting vaccinations.
The Centers for Disease Control and Prevention, in association with the Advisory Committee on Immunization Practices, the American Academy of Pediatrics, the American Academy of Family Physicians, and other organizations, develops the recommended vaccination guidelines. The ages that children should begin vaccinations and the timing and dosing of vaccines are based on a number of factors, including:
The number of people likely to get the disease without vaccinations
The danger posed by the disease that the vaccine is meant to prevent
The effectiveness of the vaccine in helping the body develop immunity to the disease
The safety and effectiveness of the vaccine when given at a certain age
The current vaccination guidelines help protect children from 14 different diseases by the time they are two years old. This may seem like a lot at an early age; however, it is important that children receive the immunizations early since that is when the immune system is most vulnerable and they are most likely to suffer serious complications from diseases. The CDC recommends that all babies receive a hepatitis B vaccine within 12 hours of birth to protect them from a contagious liver disease that can be passed from mother to baby during birth. In addition to follow-up doses of the hep B vaccine, children should also have had one or more doses of vaccines for chickenpox, mumps, measles, rubella, whooping cough, and other diseases by the time that they are two years old. The CDC also recommends a yearly influenza vaccine for persons age 6 months and older.
Do Adults Need to Visit a Vaccine Clinic?
Once we reach adulthood, the effectiveness of certain vaccines we received during childhood starts to diminish, so it is a good idea to get a booster. This includes boosters for tetanus, diphtheria, and whooping cough. These are in addition to an annual influenza vaccine.
Women who are pregnant or considering becoming pregnant should talk to their primary care doctor about the vaccines they may need to protect themselves and their child before, during, and after pregnancy. This may include vaccines for mumps, measles, rubella, whooping cough, and the flu. Working with your primary care doctor to ensure that you are appropriately vaccinated throughout your pregnancy can help provide your child with valuable immunity against diseases during the critical first months of life.
Adults with certain health conditions or who work in high-risk occupations, such as healthcare workers, should work with their primary care doctor to determine if there are any additional vaccines they may need to protect themselves or others. This may include boosters for hepatitis B as well as mumps, measles, and rubella.
How Can I Find Out Where to Get Vaccinated?
At FastMed, we make it easy to determine where you can get vaccinated. We offer a range of childhood and adult vaccines, including influenza, hepatitis B, and Tdap (tetanus, diphtheria, & whooping cough), at affordable prices. If you are unsure if you are up to date on your vaccines, we will help you get back on track. We have more than 100 locations throughout Arizona, Texas, and North Carolina, and we are open seven days a week for your convenience. Our streamlined online check-in and e-registration processes mean that you can get vaccinated and be on your way much faster. Call or stop by today for more information.
About FastMed
FastMed Urgent Care owns and operates nearly 200 centers in North Carolina, Arizona and Texas that provide a broad range of acute/episodic and preventive healthcare services 365 days a year. FastMed also provides workers' compensation and other occupational health services at all its centers, and family and sports medicine services at select locations. FastMed has successfully treated more than six million patients and is the only independent urgent care operator in North Carolina, Arizona and Texas to be awarded The Joint Commission's Gold Seal of Approval® for quality, safety and infection control in ambulatory healthcare. For more information about locations, services, hours of operation, insurance and prices, visit www.fastmed.com.