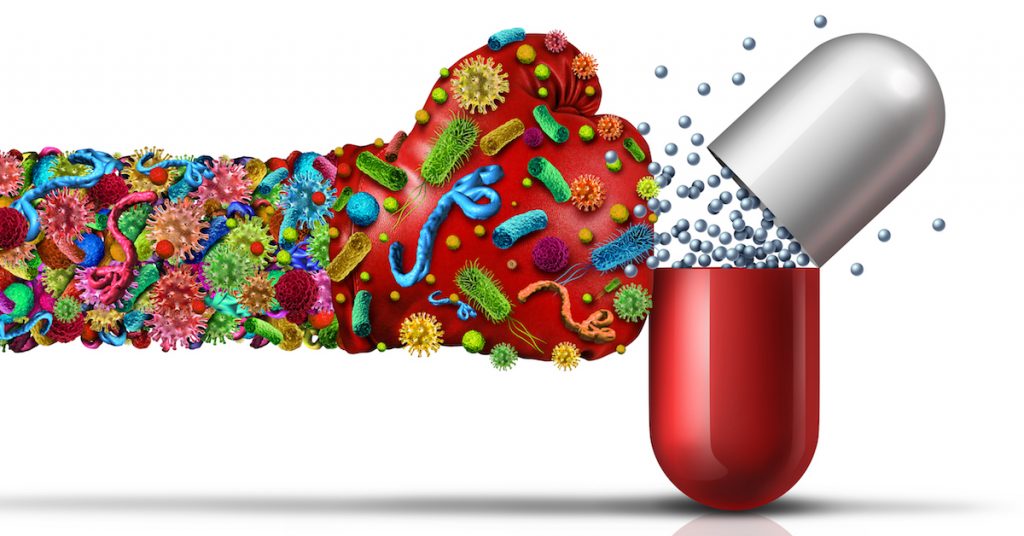 Modern antibiotics make it possible to successfully treat infections that were once almost always fatal. Unfortunately, the overuse and misuse of antibiotics have resulted in an increased number of antibiotic-resistant infections.
What Is Antibiotic Resistance?
Antibiotic resistance occurs when bacteria develop the ability to withstand the drugs designed to kill them or inhibit their reproduction. Resistance allows the bacteria to grow unchecked and makes the illness much more difficult, if not impossible, to treat. The most common causes of antibiotic resistance are the overuse and misuse of antibiotics.
What Are Common Misconceptions Leading to the Misuse of Antibiotics?
A recent report by the World Health Organization found that while the majority of 10,000 individuals surveyed realized that preventing antibiotic resistance was important, there was widespread misunderstanding regarding the appropriate use of antibiotics. For example:
• 67% thought that resistance occurred when the body no longer responded to the antibiotic. In reality, it is the bacteria, not the body, that is becoming resistant.
• 32% thought that they should stop taking antibiotics as soon as they started to feel better. Failing to take the full course of antibiotics may mean that the infection is not fully treated and can leave the most resistant bacteria alive.
• 64% thought that it was appropriate to use antibiotics to treat colds, flu, and other viral infections. Antibiotics are only effective against bacteria. Colds, flu, and many upper respiratory and sinus infections are actually caused by viruses, so antibiotics would have no effect. Taking antibiotics unnecessarily can lead to resistance problems.
• 44% thought that antibiotic-resistant infections were only a problem for people who took antibiotics on a regular basis. In reality, anyone can get an antibiotic-resistant infection.
Another common misconception is that all antibiotics are created equal. As a result, patients may take antibiotics originally prescribed for another illness or other family members. In fact, each class of antibiotic is effective against certain types of bacteria. Not only is there the possibility that the leftover or shared medication may not be effective against the particular bacteria causing the current infection, but it can also cause an allergic reaction or side effects that can make it more difficult for a health care provider to diagnose the true illness. For example, antibiotics can destroy the healthy bacteria in the digestive system, which can lead to an overgrowth of a bacteria called Clostridium difficile that can cause life-threatening diarrhea. Only a health care provider can determine if you need an antibiotic and which type of antibiotic is most appropriate for your illness.
What Are the Effects of Antibiotic Resistance?
Antibiotic-resistant infections typically require longer hospital stays, more follow-up doctor visits, and expensive treatments that are often more toxic and have more severe side effects. According to the Centers for Disease Control, at least 2 million Americans are infected with antibiotic-resistant bacteria each year, and at least 23,000 die from their infections. The effects of antibiotic resistance can be seen across all demographic groups as well as the health care, agricultural, and veterinary industries.
What Is the Role of Patients in Preventing Antibiotic Resistance?
Everyone can play a role in preventing antibiotic resistance. According to the CDC, the following are a few ways in which patients can combat the effects of antibiotic resistance:
• You should take your antibiotics exactly as prescribed by the doctor.
• Don't ask for antibiotics if your health care provider does not think that they are necessary.
• Never share or use leftover antibiotics.
• Protect yourself from infections by practicing good hand hygiene and getting all vaccines recommended by your health care provider.
Why Should I Be Concerned About Preventing Antibiotic Overuse?
The increase in the number of antibiotic-resistant infections is a worldwide health threat. Since antibiotic-resistant infections can affect anyone, we must all be concerned about preventing antibiotic overuse and misuse. There are also very few new antibiotics in development or waiting for approval by the Food and Drug Administration. Preventing antibiotic overuse and misuse is one way to ensure that the antibiotics we do have remain effective for as long as possible.
If you are suffering from an infectious illness, our FastMed providers can determine if you would benefit from antibiotics or another type of treatment. Our clinics have extended hours to accommodate your busy schedule and we are always happy to accept walk-in patients. With more than 100 locations across North Carolina, Texas, and Arizona, the help you need is never far away.
About FastMed
FastMed Urgent Care owns and operates nearly 200 centers in North Carolina, Arizona and Texas that provide a broad range of acute/episodic and preventive healthcare services 365 days a year. FastMed also provides workers' compensation and other occupational health services at all its centers, and family and sports medicine services at select locations. FastMed has successfully treated more than six million patients and is the only independent urgent care operator in North Carolina, Arizona and Texas to be awarded The Joint Commission's Gold Seal of Approval® for quality, safety and infection control in ambulatory healthcare. For more information about locations, services, hours of operation, insurance and prices, visit www.fastmed.com.