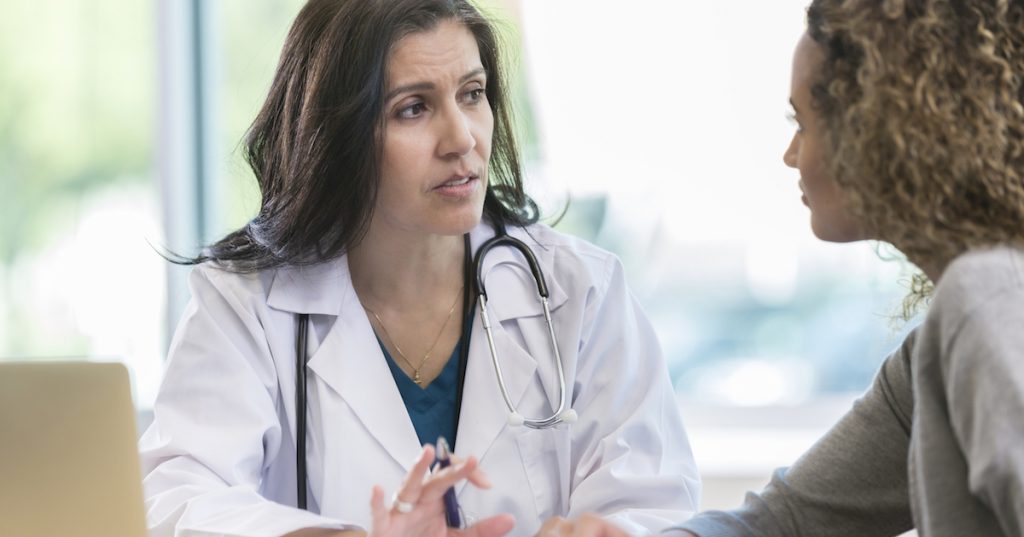 Syphilis is a bacterial infection usually spread through sexual contact. Early syphilis can be cured with a single injection of penicillin. Left untreated, the bacteria may remain dormant for decades, eventually impacting the body's major organs.
If you've had sexual contact with someone who has been diagnosed with syphilis, or you've had multiple sexual partners, or you're a man who has sex with other men, you should be tested regularly. Long-term complications from syphilis can be serious and even life-threatening.
What Are the Most Common Syphilis Symptoms?
Syphilis symptoms vary according to the stage of infection and are usually described as early stages (primary and secondary syphilis symptoms) and late stages (latent and tertiary symptoms).
Primary Syphilis Symptoms:
This stage occurs approximately three to four weeks after coming into contact with the syphilis bacteria. A painless sore called a chancre is usually firm and round and develops at the site where the bacteria entered the body. In some cases, chancres go unnoticed, since they're often hidden in the vagina or rectum. These sores usually heal on their own within three to six weeks.
Secondary Syphilis Symptoms:
A few weeks after the initial chancre appears, or even after it heals, a rash may develop. Although rarely itchy, these rough, red or brown spots may eventually cover the entire body, including the hands and feet. In fact, a rash on the palms of the hands and bottoms of the feet is considered a characteristic sign of syphilis.
Although rarely itchy, the rash is often accompanied by additional symptoms, such as:
Fever
Muscle aches
Patchy hair loss
Sore throat
Swollen lymph nodes
Latent Syphilis Symptoms:
Left untreated, syphilis will eventually enter into the latent phase. This stage can last for years and is asymptomatic. Eventually, the disease may progress to the final, more serious, tertiary phase.
Tertiary Syphilis Symptoms:
Of those with untreated syphilis, about 15 to 30 percent will develop complications known as tertiary syphilis. These complications may not occur until years or even decades after the initial infection. Tertiary syphilis can cause serious damage to the body.
Potential problems include:
Blindness
Deafness
Destruction of soft tissue and bone
Heart disease
Memory loss
Mental illness
Neurological disorders (such as meningitis or stroke)
Neurosyphilis (infection of the brain or spinal cord)
What is the Typical Syphilis Treatment?
When caught early, syphilis is usually cured with a single injection of penicillin. If you have an allergic response to penicillin, your healthcare provider may recommend syphilis treatment using a different antibiotic.
Neurosyphilis, a type of syphilis that could develop 10 to 20 years after the initial infection, requires daily intravenous does of penicillin, sometimes administered during a brief hospital stay. Since damage from neurosyphilis cannot be reversed, this type of syphilis treatment typically focuses on easing related pain and discomfort.
Where Can I Find a Syphilis Cure?
If you've had sexual contact with someone diagnosed with syphilis, or if you have signs and symptoms that could be syphilis related, see your local FastMed practitioner promptly for blood testing. You should receive regular testing if you've had multiple sexual partners, have HIV, or you are a man who has sex with other men. Each of these factors increases your risk.
An injection of penicillin can be an effective syphilis cure when administered in the earliest stages. Once syphilis has progressed beyond the early latent phase, daily doses of penicillin may be necessary.
Your local FastMed provider is available for affordable, confidential evaluation, testing, and diagnosis of syphilis. If you're interested in testing for a few different STDs in addition to syphilis, we have created convenient packages for you to choose from based on your needs to save you even more money. Simply walk in at your convenience, or check in online and complete your e-registration beforehand to save time.
About FastMed
FastMed Urgent Care owns and operates nearly 200 centers in North Carolina, Arizona and Texas that provide a broad range of acute/episodic and preventive healthcare services 365 days a year. FastMed also provides workers' compensation and other occupational health services at all its centers, and family and sports medicine services at select locations. FastMed has successfully treated more than six million patients and is the only independent urgent care operator in North Carolina, Arizona and Texas to be awarded The Joint Commission's Gold Seal of Approval® for quality, safety and infection control in ambulatory healthcare. For more information about locations, services, hours of operation, insurance and prices, visit www.fastmed.com.