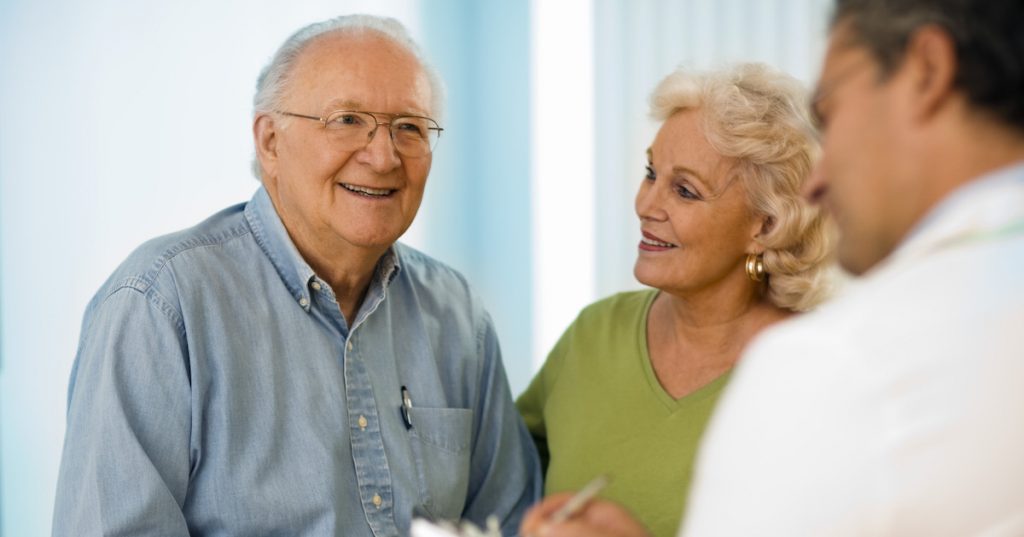 As we age, it is important to find a primary care doctor who is attuned to the unique health needs of older adults. The following checklist will guide you through how to pick a primary care doctor for yourself or a senior loved one.
How Do I Start My Search for a Primary Care Doctor for Seniors?
One of the best places to start your primary care doctor search is by asking friends, family members, or other health care providers for recommendations. You should then review the provider's credentials, certifications, skills, and malpractice and disciplinary history on state websites or Healthgrades.com. Once you have narrowed your list to several candidates, schedule appointments with each office so that you can meet and interview each provider.
What Should I Know About How to Pick a Primary Care Doctor?
It is common for older adults to have one or more chronic or complex health issues. The more experience that your primary care doctor has with your specific health conditions, the better the care you are likely to receive. Don't be afraid to ask a prospective health care provider how many patients they have treated with your condition. If you need a specific procedure, the provider should be willing to discuss how many of the procedures they have performed, their success and complication rates, and your own prognosis and risk of complications.
What Factors Should I Consider When Conducting a Primary Care Doctor Search?
The following checklist can help you narrow down your provider search:
Communication Style and Comfort Level
You should look for a provider that you feel comfortable discussing personal information with and who is able to communicate with you in a way that you can understand and that is respectful. Considerations include the age and gender of the practitioner, the overall atmosphere of the clinic, the amount of time that the practitioner is willing to spend with you, and whether the practitioner is willing to answer your questions.
Hospital Privileges
Since your practitioner's hospital affiliations determine where you will go if you require hospitalization, hospital quality is an important consideration. Choosing a provider who is affiliated with a top-rated hospital will reduce the likelihood of complications and ensure a better outcome if you require hospitalization. The location of the hospital is also an important consideration so that travel and transportation issues do not prevent you from getting the care that you need.
Accessibility
Even relatively minor health issues can escalate quickly and lead to hospitalizations and other complications if not treated promptly. Finding a practice with after-hours availability can help prevent a hospital stay and complications that can lead to long-term or permanent debility.
Treatment Philosophy
You should look for a provider whose approach to medical care for aging patients mirrors your own wishes. For example, aggressive treatments for cancer and other chronic conditions and even certain medications may cause serious complications in older patients and provide little in the way of increased life span or quality of life, so you may want a provider who takes a more cautious approach when prescribing medications and treatments to older patients.
Family and Confidentiality
Striking a balance between privacy and family involvement can be a challenge both for health care providers and patients. While there may be times when you or your provider wish to communicate privately regarding delicate issues, family members and designated caregivers are an important part of your care team. You should address the extent that you want family and caregivers involved in your health care decisions and treatment planning and find out how the provider will accommodate your preferences.
Insurance Coverage
Medicare, Medicaid, and most private insurance plans require patients to choose from an approved list of providers. To limit out-of-pocket expenses, you should look for a provider that accepts your insurance plan, including any Medicare supplements that you might have.
Where Can I Find Primary Care Doctor Reviews?
Taking a moment to read patient satisfaction surveys can provide important insight into how a practice is run, how the provider practices medicine, wait times for appointments, and the general responsiveness of providers and staff. Healthgrades, Google reviews, and patient comments and feedback on the practice's Facebook page are good sources for primary care doctor reviews.
Is There a Primary Care Doctor for Seniors Near Me?
Whether you need information on how to pick a primary care doctor or need an experienced primary care doctor for seniors, FastMed can help. Our North Carolina Family Medicine providers deliver comprehensive health care for all age groups. To find a FastMed Family Medicine near you, click here.
About FastMed
FastMed Urgent Care owns and operates nearly 200 centers in North Carolina, Arizona and Texas that provide a broad range of acute/episodic and preventive healthcare services 365 days a year. FastMed also provides workers' compensation and other occupational health services at all its centers, and family and sports medicine services at select locations. FastMed has successfully treated more than six million patients and is the only independent urgent care operator in North Carolina, Arizona and Texas to be awarded The Joint Commission's Gold Seal of Approval® for quality, safety and infection control in ambulatory healthcare. For more information about locations, services, hours of operation, insurance and prices, visit www.fastmed.com.