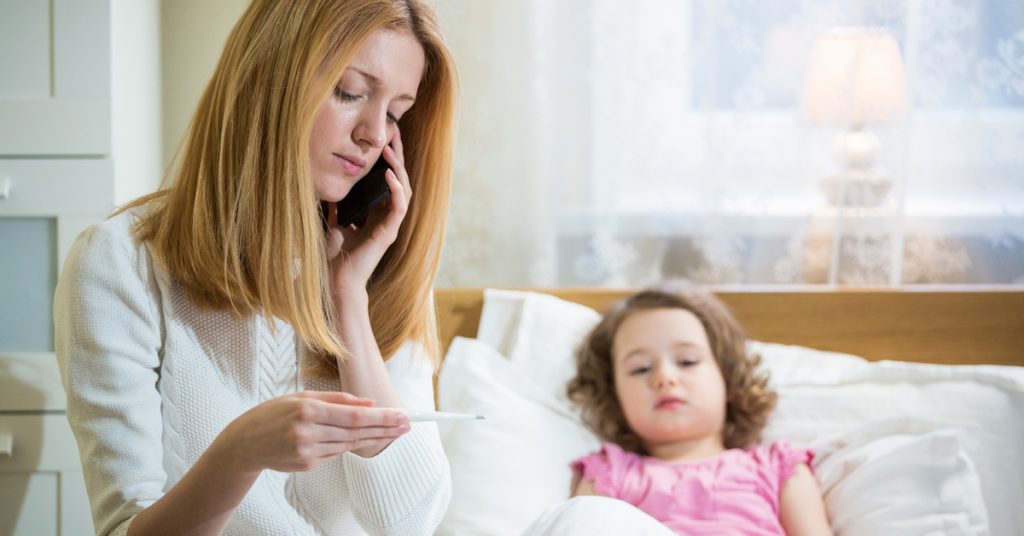 Whether or not you're ready for it, flu season is here. For most, influenza is a mild illness that goes away on its own, as long as proper precautions are taken. For some, however, the flu virus can be serious enough to require immediate medical intervention. Here's how to determine when or if you need the care of a medical professional.
How to Diagnose the Flu?
If you experience body aches, a cough, fever, fatigue, chills, sore throat, headache, and a runny or stuffy nose, you may be suffering from the flu. Symptoms vary by individual, with some people experiencing nausea and vomiting, while others develop respiratory problems and no fever.
Since flu symptoms also mimic those of other viruses, it may be impossible to accurately diagnose the flu without a lab test. Your healthcare provider will determine whether this is necessary or not. Testing can be especially helpful for those at a higher than normal risk for complications.
What Warning Signs Should I Watch For?
Warning signs vary by age. For adults, you should seek immediate medical help if you experience any of the following:
Abdominal pain or pressure
Chest pain or pressure
Flu symptoms that improve, then return with a worse cough and fever
Severe vomiting
Shortness of breath or difficulty breathing
Sudden dizziness or confusion
For children, seek medical care right away for the following:
Fast or troubled breathing
Skin that appears bluish in color
Insufficient fluid intake
Difficulty waking up or interacting
Irritability to the point of not wanting to be held
Fever with a rash
A return of fever with a worse cough after initial improvement
In addition to the signs listed above, get immediate medical help for an infant showing signs of:
Troubled breathing
An inability to eat
Absence of tears when crying
Significantly fewer wet diapers than usual 
Determining Your Risk for Flu Complications
Flu risks are higher for the obese—those with a body mass index (BMI) of 40 or higher—as well as for those under age 19 on long-term aspirin therapy, or anyone with a weakened immune system. Age is also a factor. Children under five and adults over 65 have a high risk of complications, as do pregnant women, Native Americans, and Alaska Natives.
Serious complications are also more likely for those with a history of:
Asthma
Blood disorders, such as sickle cell disease
Chronic lung disease, such as cystic fibrosis and chronic obstructive pulmonary disease (COPD)
Congenital heart disease, congestive heart failure, coronary artery disease, or other heart disease
Endocrine disorders, such as diabetes mellitus
Kidney or liver disorders
Metabolic disorders, including inherited metabolic disorders and mitochondrial disorders
Neurological and neurodevelopmental conditions
What Should I Do If I Get the Flu?
The majority of those who get the flu virus recover on their own, without medical intervention or a need for antiviral drugs. Unless you become very sick, or have a high risk of complications, you should stay home, except to seek medical help.
The CDC recommends limiting contact with other persons until you have been fever free, without medication, for a minimum of 24 hours. It also recommends against giving aspirin or products containing salicylate to children and teenagers under the age of 18 who have the flu. These have been known to cause Reye's syndrome, a serious complication that may lead to liver problems and seizures.
Do I Need to Go to an Emergency Room?
Unless you experience any of the serious symptoms listed previously, there's no need to head to an ER. If you fall into a high-risk group, or are having concerns about your illness, contact your FastMed provider or another healthcare professional for advice.
Emergency rooms are best left to those with true emergencies. In fact, going to an ER can actually increase your odds of getting the flu for if you don't already have it.
Should I get a Flu Shot?
The answer is yes, yes, yes and yes. Only the flu vaccine can actually help prevent the flu. The effectiveness of the vaccine depends on the particular strain of virus or viruses that are prevalent during any given season. Regardless, even a less than perfectly effective flu vaccine is better than none at all. If nothing else, a flu shot will help to lessen the severity and duration of symptoms if you do get the flu.
Where to Get a Flu Shot
Your local FastMed clinic makes it easy to get the flu vaccine or flu treatment at more than 100 locations throughout Arizona, Texas, and North Carolina. For your convenience, we're open extended hours, seven days a week, 365 days a year, including holidays.
There's no need for an appointment. Simply walk in to your nearest FastMed location, or check in online first to save time.
About FastMed
FastMed Urgent Care owns and operates nearly 200 centers in North Carolina, Arizona and Texas that provide a broad range of acute/episodic and preventive healthcare services 365 days a year. FastMed also provides workers' compensation and other occupational health services at all its centers, and family and sports medicine services at select locations. FastMed has successfully treated more than six million patients and is the only independent urgent care operator in North Carolina, Arizona and Texas to be awarded The Joint Commission's Gold Seal of Approval® for quality, safety and infection control in ambulatory healthcare. For more information about locations, services, hours of operation, insurance and prices, visit www.fastmed.com.