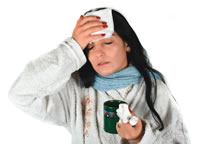 The leaves are changing colors and it is starting to feel like fall. That means  "flu season" is right around the corner. Don't waste time wondering where you can get a flu shot. Instead, visit one of FastMed Urgent Care's Winston-Salem, NC, locations, where you can get a flu shot quickly and conveniently.
Before you visit FastMed to get your flu shot, you should understand why it is important. Influenza is a serious disease that can lead to hospitalization, and in some cases, death. The influenza vaccine can reduce your chance of getting the flu and spreading it to others.
Each season the flu affects people differently, and even healthy people can get sick and spread the disease to others. "Flu season" in the United States can start as early as October and last until May. The CDC recommends that everyone over 6 months of age be vaccinated for the flu. It is especially important for people who are at high risk for getting it.
If you already have the flu you can prevent the spread of it by:
Covering your mouth and nose when you cough or sneeze
Limiting contact with others
Washing your hands frequently and thoroughly
If you are not sure whether or not you should get the vaccine, The CDC website has a helpful guide on who should and should not get the shot.
Get Your Flu Shot at One of FastMed's 3 Locations in Winston-Salem, NC
If you live in Winston-Salem, NC, and are wondering where you can get a flu shot, visit one of our 3 FastMed locations in the area. We offer flu shots for children and adults 7 days a week, no appointment necessary. FastMed provides high-quality care, and our services are covered by most major insurance carriers.