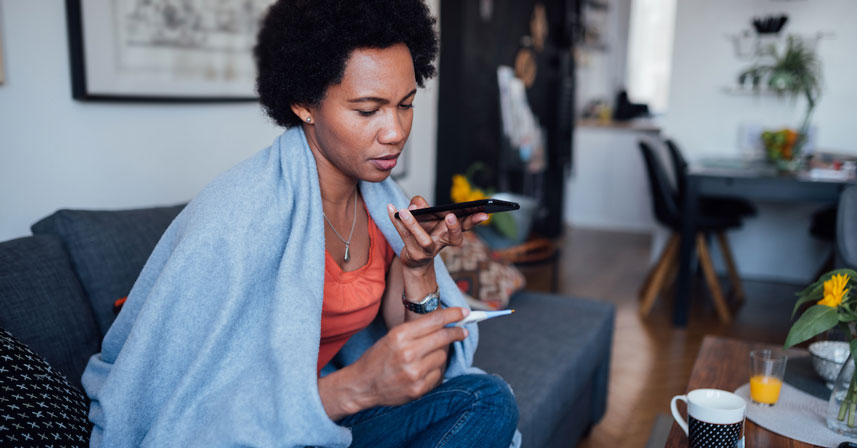 With COVID-19 in the spotlight, influenza has all but disappeared – or at least that's what most people think. But the truth is that flu season never went away, and the threat of the flu virus is still very real. Keep reading to learn about the connection between COVID-19 and flu season and how you can stay protected now and in the future.
Flu season 2020-2021: How times have changed
In 2019, long before COVID-19 became part of our daily vocabulary, the flu virus was widespread in most states. Over 9 million cases of the flu were reported across the country, and pediatric deaths from the flu hit a staggering 17-year high.
Flu season 2020-2021 couldn't be any more different. With record-low numbers and unusually mild activity, influenza seems to have taken a back seat during the COVID-19 pandemic. So, what gives?
No waiting for the flu vaccine
One of the biggest differences between COVID-19 and flu season: vaccines.
While we played the waiting game for a COVID-19 vaccine to be developed, flu shots were readily available. Anyone who wanted a flu shot over the past year likely had little trouble finding one. According to the CDC, 188 million doses of the flu vaccine were shipped out across the U.S. by the end of 2020. That's a big increase over the 169 million doses sent in 2019 and the 163 million doses distributed the year before that.
Flu vaccination in 2020 also started earlier than in previous years. The CDC reported that as of November 2020, over 44 million adults had received flu vaccines at U.S. pharmacies, compared to 30 million in 2019.
COVID-19 restrictions slowed the spread of the flu
It wasn't just vaccines that seemed to bring flu season to a halt. The safety precautions put in place for COVID-19 had a significant impact on flu transmission as well.
When it comes to COVID-19 vs. flu, there's no question that COVID-19 is more contagious. However, because the virus that causes influenza is spread by respiratory droplets, the precautions used to prevent COVID-19 – such as wearing a mask, social distancing, and washing hands – helped to stop the spread of flu at the same time.
Consider this eye-opening statistic: between October 1, 2020 and January 30, 2021, only 155 people in the United States were hospitalized with the flu. That's a 98% decrease over the same period in the 2019-2020 flu season, when over 8,600 people were hospitalized*.
Closed schools = less flu
If germs are going to spread, schools are a likely place for it to happen. Typically, school-aged children transmit more of the flu virus and spread it for longer – fueling the transmission of the flu in their communities. Unfortunately, children often have lower immunity to the flu because their immune systems haven't been exposed to as many pathogens. And once they catch the flu, they bring it home to their parents and relatives.
Here's where COVID-19 and flu season get an A+. The precautions put in place to prevent COVID-19 in our schools – including virtual learning, staggered arrival times, wearing a mask, and social distancing – were also effective in preventing flu.
Closed workplaces = even less flu
Offices and other workplaces, especially where employees work closely with one another, are usually flu hotspots as well. Flu germs can live on commonly touched surfaces – such as doorknobs, copy machines, or office water coolers – for up to 24 hours.
COVID-19 has had a major impact on where and how we work, with closed office buildings, less business travel, and mask requirements all contributing to the decline in flu transmission. After all, you can't catch the flu from a Zoom meeting!
COVID-19 vs. flu
Why are COVID-19 precautions so much more effective at stopping the flu? There are several reasons, but the contagiousness of the COVID-19 virus is a big one.
Researchers calculate the contagiousness of a disease or virus by determining the R number, which represents an average of how many people someone with the disease or virus will spread it to. The R number for COVID-19 is 2–3, while the R number for influenza is just 1–2.
COVID-19 also has a longer incubation period, which can last up to a few weeks, while people with the flu typically develop symptoms just a few days after being exposed. Once flu symptoms begin, people often isolate themselves, reducing the chance that they'll transmit the virus to others.
With COVID-19, a person can actively spread the virus for several days or even weeks before they experience symptoms. And if their symptoms aren't easily recognized as COVID-19 symptoms, such as nausea, diarrhea, or a headache, their exposure to others may continue.
Protect yourself
When COVID-19 precautions are eventually lifted, the flu is expected to make a roaring comeback. Even if the 2021–2022 flu season remains mild due to continued safety measures, it's important to understand that the flu is not going anywhere.
Hopefully, many of the habits we're now accustomed to will remain a part of our daily routines. Washing hands, self-isolating when we don't feel well, and even wearing a mask during the peak of flu season can all help to stop flu transmission long after the pandemic is over. But the best thing you can do to prevent the flu is to get a flu vaccine each year, even now when there are fewer flu cases.
* https://www.cdc.gov
About FastMed
FastMed Urgent Care owns and operates nearly 200 centers in North Carolina, Arizona and Texas that provide a broad range of acute/episodic and preventive healthcare services 365 days a year. FastMed also provides workers' compensation and other occupational health services at all its centers, and family and sports medicine services at select locations. FastMed has successfully treated more than six million patients and is the only independent urgent care operator in North Carolina, Arizona and Texas to be awarded The Joint Commission's Gold Seal of Approval® for quality, safety and infection control in ambulatory healthcare. For more information about locations, services, hours of operation, insurance and prices, visit www.fastmed.com.