Know Where to Get a Flu Shot?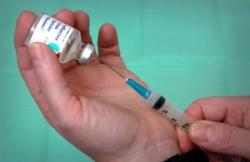 We recommend you get your flu shot in a medical environment, not standing in the aisle of a store. The FastMed Urgent Care nearest to you is always available to give flu shots.  The flu is a serious illness – the Centers for Disease Control and Prevention estimate that over 200,000 people a year are hospitalized due to flu symptoms and complications. Still misconceptions about the flu vaccine abound.  There are a lot less people asking where to get a flu shot than there should be.  
There are two ways to receive the flu vaccine: 
Traditional injection using inactive or dead flu virus cells
Nasal Spray using active but weakened flu virus cells
Flu shots are preventative vaccinations and it's recommended that anyone over 6 months of age get a flu shot. The exceptions are any person who has had a severe allergic reaction to the flu vaccine and individuals with a moderate to severe illness should wait to get a shot until their condition improves.  Consult your doctor  before getting a flu shot if you have a history Gullian-Barre Syndrome. Decide where to get a flu shot and get it taken care of.
FastMed Flu Shot Facts
Why should I get a flu shot?
It significantly reduces your chance of getting the flu. If you don't get the flu, you won't spread it to people at higher risk for serious flu symptoms – people over 65, pregnant women and children under five, and particularly under two. Learn where to get a flu shot and get vaccinated early in the flu season.  FastMed Urgent Care offers flu shots.
Do my children need a flu shot?
It is highly recommended you vaccinate any child over 6 months of age. A recent study showed that a flu shot reduced the risk of flu-related pediatric intensive care admission by 74% between 2010 and 2012.
Does the flu vaccine work right away?
No. It takes roughly 2 weeks before the antibodies that protect you from the flu to develop in your body. Flu shots usually become available in the early autumn, when flu season officially begins.  It's suggested you decide where to get your flu shot as early in the season as possible.
Will the flu vaccine give me the flu?
No. The flu vaccine can cause some minor, short term side effects which range from headache, soreness at injection spot and muscles.  Getting a flu shot may be one of the best things you can do to protect yourself and your family from getting the flu.