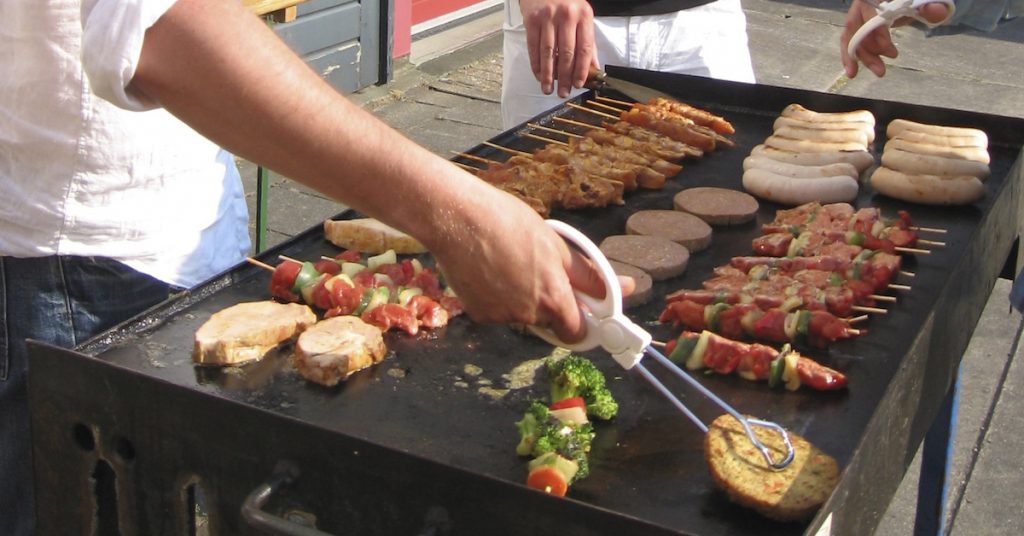 With barbecue and picnic season in full swing, the last thing that you want is for you and your guests to end up sidelined by summer foodborne illnesses. FastMed Urgent Care wants you to understand what causes most foodborne illness and the basics of food safety, so you can make sure that your guests do not leave your next get-together with a serious case of food poisoning.
What Causes Most Foodborne Illness?
Bacteria and inadequate sanitation are the most common causes of foodborne illness. Most foods are a ready source of moisture and nutrients, which bacteria need to survive. When coupled with summertime temperatures near the triple digits, the bacteria can multiply quite rapidly leading to summer foodborne illnesses. In addition to limited access to refrigeration to keep food chilled, it can also be difficult to keep your hands and your utensils and cooking area clean. Whether you are barbecuing in the backyard or preparing a meal while on a camping trip, you can prevent foodborne illness by following five basic food safety tips.
1. Keep It Clean
The first rule of foodborne illness prevention is to clean your hands and food prep surfaces often to eliminate the bacteria that are the major causes of foodborne illness. Before preparing, serving, or eating food, you should wash your hands with warm, soapy water for at least 20 seconds. If you are somewhere where you do not have access to potable water, make sure that you bring plenty of water, sanitizer, paper towels, and disposable wipes and towelettes for cleaning your hands and cooking area.
2. Watch Out for Cross-Contamination
The second rule of foodborne illness prevention is to prevent cross-contamination by making sure that raw foods, especially meats, poultry, and fish, do not come into contact with cooked foods. You can prevent foodborne illness by wrapping raw meats, poultry, and fish securely or by placing them in sealed containers so that their juices do not leak onto other foods. Once cooked, you should never place your cooked meats on the same plate that they were on when they were raw unless you are able to wash it thoroughly with soap and water.
3. Temperature Is Key
Most of the bacteria that are common causes of foodborne illness are killed when food is cooked long enough and at a high enough temperature. You cannot tell if your burger, steak, or chicken breast is done simply by looking, especially when grilling at high temperatures that can brown the outside of your food before the inside has reached a high enough temperature to kill the bacteria. You can prevent foodborne illness by using a food thermometer to check the internal temperature of meats to ensure that they are safe. Poultry should be cooked to a temperature of 165°F. Ground meats should be cooked to an internal temperature of 160°F. Steaks, roasts, and chops should be cooked to a temperature of 145°F. You should not try to save time by partially cooking your meat before heading to the picnic location. Partial cooking is not enough to kill the bacteria, and the bacteria can continue to multiply to the point that they may not be killed by the subsequent cooking.
4. Keep It Cool
Keep all of your perishable foods in an insulated cooler with plenty of ice. Keep the cooler in the shade if possible, and replenish the ice frequently. It is also a good idea to keep your beverages in a separate container so that people are not constantly opening the cooler with the perishable items, which can cause the temperature to fluctuate and make the food unsafe. If a cooler or another type of refrigeration is not an option, choose foods that do not require refrigeration, such as fruits, hard cheeses, and dried meats.
5. When in Doubt, Throw It Out
If possible, put perishable items back on ice or in a refrigerator as soon as you are finished eating. Anything left out in temperatures above 90°F can become unsafe in as little as an hour. If you are unsure how long something has been left out, your best option is to throw it out.
Foodborne illnesses typically cause gastrointestinal symptoms, such as nausea, vomiting, and diarrhea. In most cases, these symptoms resolve within a couple of days once the food has moved through the digestive system. If your symptoms persist, you should seek medical attention to prevent dehydration and other complications.
From routine physicals to acute illnesses and injuries, FastMed is here to serve you and your family seven days a week. We gladly accept walk-ins, and you can make your wait even shorter by checking in online.
About FastMed
FastMed Urgent Care owns and operates nearly 200 centers in North Carolina, Arizona and Texas that provide a broad range of acute/episodic and preventive healthcare services 365 days a year. FastMed also provides workers' compensation and other occupational health services at all its centers, and family and sports medicine services at select locations. FastMed has successfully treated more than six million patients and is the only independent urgent care operator in North Carolina, Arizona and Texas to be awarded The Joint Commission's Gold Seal of Approval® for quality, safety and infection control in ambulatory healthcare. For more information about locations, services, hours of operation, insurance and prices, visit www.fastmed.com.