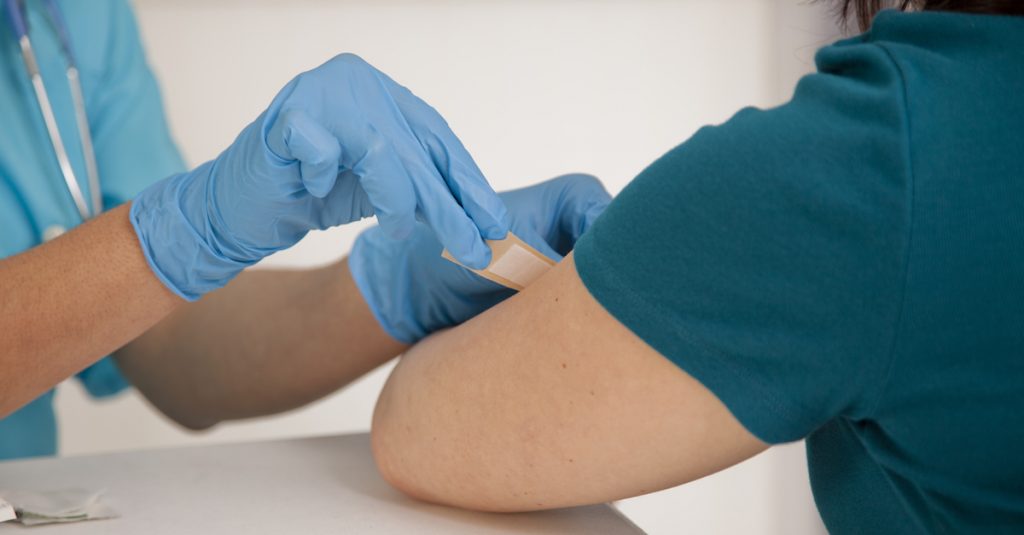 Although flu shots are recommended at almost any age, they are especially important for those susceptible to flu-related complications. Children under the age of five, adults over 65, and those with weakened immune systems are especially vulnerable.
Flu complications include pneumonia, dehydration, brain dysfunction, sinus and ear problems, as well as long term medical conditions like heart disease. The flu can also result in hospitalization and, in rare cases, even death.
What Are the Different Types of Flu Shots?
In general, flu vaccines are updated each year to protect against the influenza viruses expected to be circulating that season. In addition, a person's age and other factors play a role in determining the most effective types of flu shots or vaccines.
For example, a 2017 study showed that flu vaccinations resulted in the greatest benefits among those aged 65 and older. Although this age group can get any flu shot approved for use, nasal spray vaccines are generally not recommended.
Nasal spray vaccines are also not appropriate for children younger than two. However, the CDC recommends annual vaccinations with an age-appropriate vaccine for any child six months or older. Some children will require two doses of vaccine, with a second dose given at least 28 days after the first.
Those with weakened immune systems should never receive live (activated) vaccines in any form, as these can pose a potential danger. Even those in the same household as someone with an immune deficiency should opt for the killed (inactivated) vaccine to prevent transmission. Getting vaccinated is important, however, to reduce risk to the immune-deficient family member.
Why are Flu Shots for Kids So Important?
In children five years and under, the CDC estimates that between 7,000 and 26,000 hospitalizations resulted in the U.S. in 2010 from the flu. In addition, children between two and up to five years of age are more likely to require treatment from a doctor, urgent care center, or emergency room.
Getting older children vaccinated is important, too, especially for those with chronic health conditions. Older children's vaccinations also help protect any infants in the household who are too young to receive the vaccine themselves. FastMed administers flu shots to children who are six months and older.
What is the Best Flu Vaccine for Those 65 and Older?
Although there are a number of regular flu shots approved for this age group, there are two vaccines designed specifically for those over 65. Both the high dose vaccine and the adjuvanted flu vaccine have been associated with a stronger response in this age group.
One study showed that the adjuvanted flu vaccine, Fluad, was 63% more effective than the regular dose, unadjuvanted flu shot. In addition, a clinical trial of more than 30,000 participants, 65 and older, showed that those who received the high dose vaccine had 24% fewer influenza infections.
Both the high dose and adjuvanted flu vaccine may cause mild side effects, however, such as pain, headache, malaise, muscle aches, and redness or swelling at the injection site.
When Does Flu Shot Season Begin?
Since flu season typically begins in October, and the flu vaccine can take up to two weeks to become fully effective, you should come into your local FastMed as soon as possible to receive your flu shot. Keep in mind, flu shots for kids may require two doses, with the second given at least 28 days after the first.
Once flu season begins, it's still not too late. Influenza typically peaks between December and February, so getting vaccinated later can still prevent the flu.
Visit your local FastMed today to get your no-cost flu shot when covered by most insurance.* You can also self-pay for only $30. We're available extended hours, 365 days a year to help keep you and your family protected this flu season.
*Flu shots available while supplies last. Patients with private insurance will have their flu vaccine billed through their insurance, and there will be no co-pay unless otherwise required by their plan. Flu shots are covered through most, but not all, major insurances. Coverage depends on your plan, see clinic for coverage details. All required payments, including your co-pay, coinsurance, and/or deductible, are due at the time of service. Flu shots available at FastMed clinics are not covered under Medicaid.
About FastMed
FastMed Urgent Care owns and operates nearly 200 centers in North Carolina, Arizona and Texas that provide a broad range of acute/episodic and preventive healthcare services 365 days a year. FastMed also provides workers' compensation and other occupational health services at all its centers, and family and sports medicine services at select locations. FastMed has successfully treated more than six million patients and is the only independent urgent care operator in North Carolina, Arizona and Texas to be awarded The Joint Commission's Gold Seal of Approval® for quality, safety and infection control in ambulatory healthcare. For more information about locations, services, hours of operation, insurance and prices, visit www.fastmed.com.