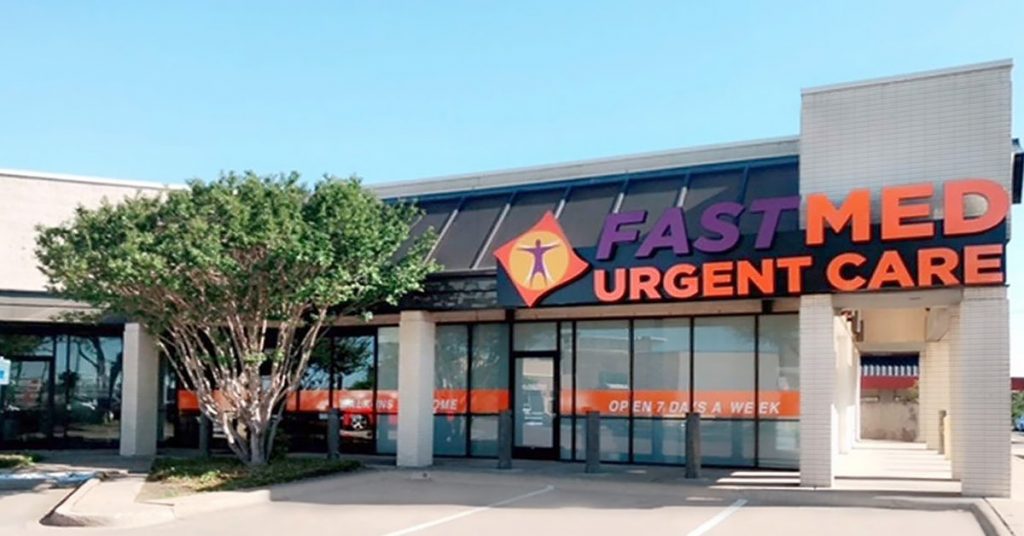 Garland, Tex. – April 3, 2017 – The nation's fastest-growing urgent care provider is quickly gaining speed. FastMed Urgent Care, now the second-largest urgent care provider in the U.S., opened a new clinic on Monday, April 3, in Garland, Texas. This will be FastMed's third clinic opening so far in 2017.
The new clinic is located in the Centerville Court Shopping Center at the corner of Centerville Road and Marketplace Drive, near Starbucks Coffee and LA Fitness. It will serve patients throughout the Garland area, providing access to immediate care for minor emergencies and illnesses. The clinic also provides routine services such as X-rays, blood work, school physicals, and drug screenings.
Over the years, the FastMed name has become synonymous with affordable, accessible, and convenient care. Clinics remain open extended hours seven days a week, including holidays—saving patients of all ages the usual hours-long wait at a hospital ER.
With 115 clinics operating throughout Texas, Arizona, and North Carolina, FastMed has proven its high level of care by earning the Joint Commission's Gold Seal of Approval®. Sami F. Elbadramany, Executive Vice President of Corporate Development, said, "It brings us great pleasure to serve the people of Garland. We look forward to providing area residents with high-quality, accessible, and affordable urgent care."
FastMed welcomes patients with no appointments necessary. Online check-in is offered for convenience, but not necessary. Most insurance plans, including Medicare and Medicaid, are accepted.
About FastMed
FastMed Urgent Care is an owner and operator of urgent care facilities with more than 110 locations across Arizona, North Carolina, and Texas. FastMed focuses on the delivery of walk-in medicine for non-emergent healthcare needs 365 days per year. FastMed's services address a wide spectrum of urgent care and family medicine needs. In addition to providing immediate walk-in attention for an injury or illness, FastMed provides routine services including flu shots, occupational medicine, and school or sports physicals. FastMed clinics hold the Joint Commission Gold Seal of Approval® for accreditation in healthcare quality and safety in ambulatory healthcare. FastMed is managed by an affiliated entity of one of the investment funds of ABRY Partners. Visit www.fastmed.com.
About FastMed
FastMed Urgent Care owns and operates nearly 200 centers in North Carolina, Arizona and Texas that provide a broad range of acute/episodic and preventive healthcare services 365 days a year. FastMed also provides workers' compensation and other occupational health services at all its centers, and family and sports medicine services at select locations. FastMed has successfully treated more than six million patients and is the only independent urgent care operator in North Carolina, Arizona and Texas to be awarded The Joint Commission's Gold Seal of Approval® for quality, safety and infection control in ambulatory healthcare. For more information about locations, services, hours of operation, insurance and prices, visit www.fastmed.com.