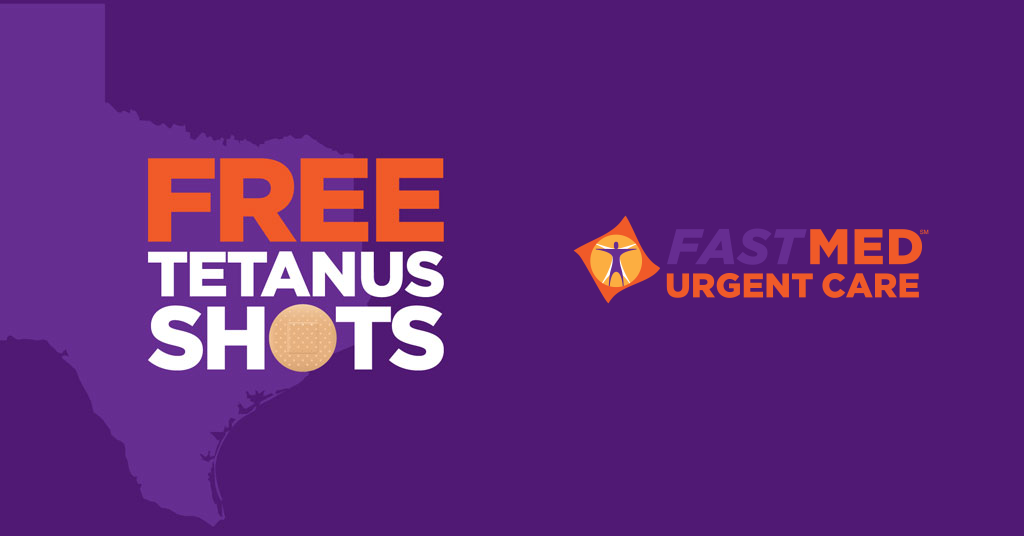 HOUSTON, Sept. 6, 2017 /PRNewswire/ — In the wake of Hurricane Harvey, three Houston-area FastMed Urgent Care locations will be administering free tetanus shot boosters Thursday, Sept. 7–Sunday, Sept. 10, 2017. FastMed's tetanus vaccination clinics aim to help protect the community against preventable diseases.
To serve and support the health of those directly impacted by Hurricane Harvey, FastMed, in partnership with Amanda Hope Rainbow Angel's, is providing tetanus boosters at no cost (while supplies last). For every vaccination administered, Amanda Hope Rainbow Angel's, an organization bringing dignity and comfort to children fighting cancer and other life-threatening diseases, is donating its signature care-package to Houston-area children.
Further information about tetanus vaccinations and details about FastMed's free tetanus boosters is provided below and at www.FastMed.com or Facebook.com/FastMed.
WHO:
Everyone 18-years-old or older in areas sustaining Hurricane Harvey damage and is not up to date on their tetanus shot (or is unsure when they last received a tetanus booster shot), is encouraged to receive a free tetanus booster shot at a participating FastMed location (listed below).
Specifics conditions in which a tetanus shot is needed:
You have not received a tetanus booster in the last 10 years; or
You have a dirty wound and have not received a tetanus booster in the last 5 years; or
You have come in contact with the flood waters and have a cut, burn, scrape or animal bite
WHEN:
| | |
| --- | --- |
| Date: | Time: |
| Thursday, Sept. 7, 2017 | 9 a.m.–9 p.m. (CT) |
| Friday, Sept. 8, 2017 | 9 a.m.–9 p.m. (CT) |
| Saturday, Sept. 9, 2017 | 9 a.m.–6 p.m. (CT) |
| Sunday, Sept. 10, 2017 | 9 a.m.–6 p.m. (CT) |
WHERE:
FastMed: Tomball
14080 FM 2920 Rd., Suite A
Tomball, TX 77377
832-843-7135
FastMed: Humble
3832 Atascocita Rd., Suite C
Humble, TX 77396
281-812-0578
FastMed: Highway 6
4805 Highway 6 N, Suite 12A
Houston, TX 77084
281-858-2931
WHY:
Tetanus is a serious infection caused by bacteria in soil, dust and manure that can enter the body through open skin, cut or puncture wound. Hurricane Harvey has created conditions making people especially susceptible to contracting tetanus; Texas health officials are urging people to get tetanus booster shots to protect themselves1.
1 http://www.npr.org/sections/health-shots/2017/08/28/546781492/stay-safe-and-get-a-tetanus-shot-texas-health-officials-urge
CONTACT: Amrita Sahasrabudhe, amrita@fastmed.com, (480) 243-4335
About FastMed
FastMed Urgent Care owns and operates nearly 200 centers in North Carolina, Arizona and Texas that provide a broad range of acute/episodic and preventive healthcare services 365 days a year. FastMed also provides workers' compensation and other occupational health services at all its centers, and family and sports medicine services at select locations. FastMed has successfully treated more than six million patients and is the only independent urgent care operator in North Carolina, Arizona and Texas to be awarded The Joint Commission's Gold Seal of Approval® for quality, safety and infection control in ambulatory healthcare. For more information about locations, services, hours of operation, insurance and prices, visit www.fastmed.com.