Brings 20 years of healthcare finance experience to fastest-growing urgent care operator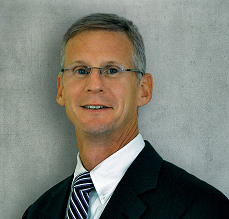 Phoenix, AZ, Aug. 2, 2016 – FastMed Urgent Care, the fastest-growing urgent care organization in the United States, has appointed Robert W. Hutchison, CPA as Chief Financial Officer ("CFO").
Robert W. Hutchison most recently served as CFO U.S. HealthWorks, Inc., a Valencia, California-based, multi-state medical group that includes urgent care, occupational medicine and specialty providers.  As a member of the senior leadership team, he was critical in growing the organization, including the acquisition of more than 85 provider practices through 40 transactions, as well as negotiating the sale of the medical group by nationally-recognized healthcare industry investment firm, Altaris Capital Investors, to leading health system, Dignity Health.
A Certified Public Accountant ("CPA"), Hutchison has more than 20 years of finance experience in the healthcare industry, including CFO roles in private equity-backed companies.  Prior to entering healthcare, he served in the United States Navy for six years.
Hutchison earned a Bachelor of Science in Commerce and Business Administration, majoring in accounting, from University of Alabama, where he also received his Master of Arts in Finance.  He was also a four-year member of the varsity cross country team at University of Alabama.  A Certified Public Accountant ("CPA"), Robert completed the prestigious Advanced Management Program at Harvard Business School.
"With his proven experience in growing U.S. HealthWorks into a multi-state, multi-specialty medical group, Robert will be the perfect addition to our senior team," said Kyle A. Bohannon, President & CEO of FastMed.  "As the company enters the next stage of growth following five years of significant expansion, FastMed requires a financial leader with a proven track record in large-scale and sophisticated healthcare transactions, financial integration and strategic planning."
With more than 100 clinics in Arizona, North Carolina and Texas, FastMed Urgent Care was ranked by Inc. 5000 as one of the nation's fastest-growing private companies for three consecutive years, growing by more than 1,000% between 2011 and 2015.  In addition, FastMed is the largest independent urgent care operator to be awarded the Joint Commission Gold Seal of Approval® for accreditation in health care quality and safety in ambulatory health care.  The company is owned by ABRY Partners, one of the most successful and renowned private equity firms in the United States.
"I am excited to join the fastest-growing urgent care in the U.S. and a senior team widely recognized as the best in the urgent care sector," said Hutchison.  "I look forward to leading the finance team at FastMed so that we, as a company, can continue providing the highest quality clinical care to support the health and wellbeing of the communities we serve."
About FastMed Urgent Care
FastMed Urgent Care is an owner and operator of urgent care facilities with more than 100 locations across Arizona, North Carolina and Texas.  FastMed focuses on the delivery of walk-in medicine for non-emergent healthcare needs 365 days per year through licensed physicians, physician assistants and nurse practitioners.  FastMed clinics hold the Joint Commission Gold Seal of Approval® for accreditation in health care quality and safety in ambulatory health care.  FastMed is managed by an affiliated entity of one of the investment funds of ABRY Partners. www.FastMed.com.
About ABRY Partners
Founded in 1989, ABRY Partners is one of the most experienced and successful media, communications, business and information services-focused private equity investment firms in North America.  Since its founding, ABRY has completed more than $42 billion of transactions, representing investments in more than 450 companies.  The firm is currently managing more than $4.3 billion of total capital and investing out of a $1.9 billion private equity fund, $950 million senior equity fund and a $1.5 billion senior debt fund. www.ABRY.com.