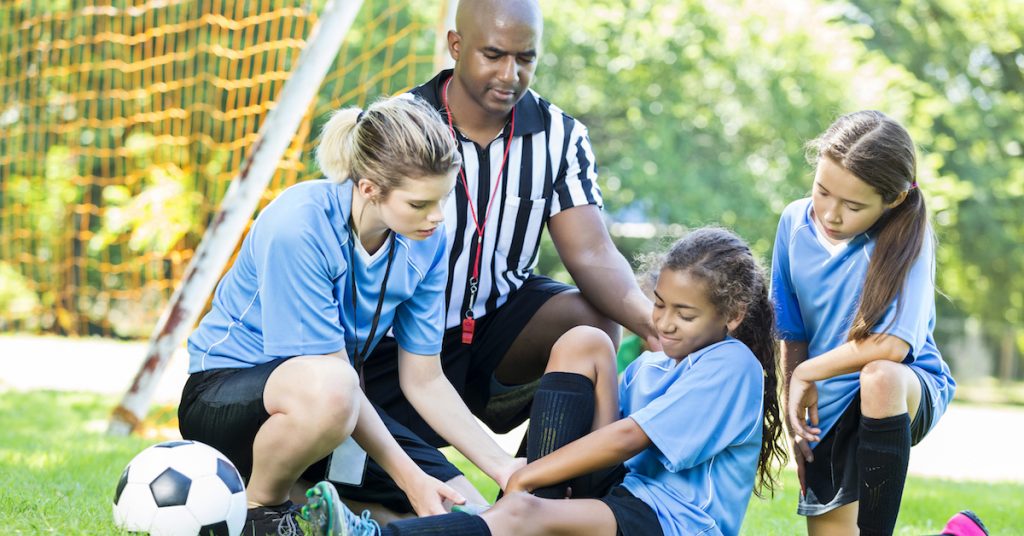 Spring is just around the corner, which means that nearly 47 million children around the country will be participating in a wide range of contact and individual sports, such as soccer, track, lacrosse, swimming, softball, baseball, and golf. Spring sports also mean an increase in sports-related injuries. Following are five facts about sports injuries that every parent of a young athlete should know.
1. Approximately 33 percent of children participating in team sports will suffer an injury serious enough to miss a practice or a game.
Even injuries that appear to be minor at first glance should be evaluated by a qualified sports injury doctor as soon as possible. If you visit the emergency room or a specialized sports injury clinic, you will likely encounter long wait times for treatment or an appointment. FastMed Urgent Care has specialized sports injury doctors available at select clinics, and all of our doctors provide immediate care for acute and chronic sports-related injuries. No appointment is necessary, and we see most patients within an hour.
2. Sports injuries are not limited to group or contact sports.
While basketball, football, and soccer rank high in the number of injuries, cycling and swimming are among the top five most dangerous sports for children. FastMed Urgent Care clinics are equipped to diagnose the same common sports injuries as a traditional sports injury clinic, including:
Sprains and strains
Pulled muscles
Tennis elbow and other repetitive-use injuries
Concussions
Shin splints
3. Girls are up to eight times more likely to experience an ACL tear than boys.
Popular sports among female athletes, including basketball, cheerleading, and soccer, place a significant strain on the anterior cruciate ligament, also known as the ACL. Although it is not clear why ACL tears are so much more common among girls, various theories suggest that it may be due to anatomical and biomechanical differences between males and females. Just like a traditional sports medicine clinic, FastMed Urgent Care clinics have state-of-the-art digital X-rays and other diagnostic equipment necessary to diagnose and treat torn ACLs and other common sports injuries.
4. Approximately 62 percent of sports injuries occur during practices rather than games.
Since many practice sessions occur before school, after hours, and on weekends, it can be difficult to see your primary care physician or to get an appointment at a sports injury clinic. This typically means a trip to the closest emergency room where you will likely wait hours to be treated by a doctor who will not be available for any follow-up. FastMed Urgent Care clinics are open seven days a week, including most holidays, with extended hours Monday through Saturday. We offer many of the same services found in a sports medicine clinic, including:
A FastMed sports injury doctor can also refer your child to an appropriate sports rehabilitation therapist if necessary.
5. Many sports-related injuries are preventable.
The following are simple steps that you can take to help keep your young athlete healthy this spring sports season:
Schedule a pre-participation sports physical at one of our FastMed locations before the start of the season.
Make sure that your child's coach has your emergency contact information and is aware of any special medical conditions your child may have.
Encourage your child to warm up and stretch before every practice and game.
Encourage your child to take frequent water breaks to avoid dehydration.
Make sure that your child has all of the necessary safety gear for their sport and that all equipment is in good condition.
Stress to your child that it is important to speak up if they are in pain. Pain is a warning that damage is occurring to the body. Pushing through the pain will only exacerbate any potential injury.
Make sure that your child has at least one day off per week from sports to give the body time to recover.
Make sure that you and your child are aware of the signs of a concussion. Symptoms of a concussion include loss of consciousness, memory problems, confusion, headaches, blurred or double vision, dizziness, and drowsiness. If you suspect that your child has a concussion, do not allow them to participate in sports until they have been cleared by a doctor.
We hope that your child remains healthy and safe this spring sports season; however, our dedicated team of providers is standing by to help if an injury should occur. We offer friendly service in a clean and welcoming clinic environment at a fraction of the cost of an emergency room visit. Contact us today for more about our sports medicine services.
About FastMed
FastMed Urgent Care owns and operates nearly 200 centers in North Carolina, Arizona and Texas that provide a broad range of acute/episodic and preventive healthcare services 365 days a year. FastMed also provides workers' compensation and other occupational health services at all its centers, and family and sports medicine services at select locations. FastMed has successfully treated more than six million patients and is the only independent urgent care operator in North Carolina, Arizona and Texas to be awarded The Joint Commission's Gold Seal of Approval® for quality, safety and infection control in ambulatory healthcare. For more information about locations, services, hours of operation, insurance and prices, visit www.fastmed.com.