The Sports Medicine clinic for immediate care
If you are an athlete, you probably have experienced your fair share of rips, tears, sprains, and strains. Sports injuries are incredibly common. Most sports injury clinics treat an array of injuries, ranging from merely annoying shin splints, to more severe—and sometimes fatal—injuries. In many cases, however, you may have to wait, in pain, for days or even weeks for an appointment.
FastMed walk-in clinics provide immediate care for all types of common, non-emergency, sports-related injuries and, in most cases, care is much faster than at a sports medicine clinic, the ER, or a general practitioner. In fact, several FastMed locations have a sports medicine provider on site to provide immediate care, without an expensive trip to the ER, or a long wait for an appointment at a sports medicine clinic.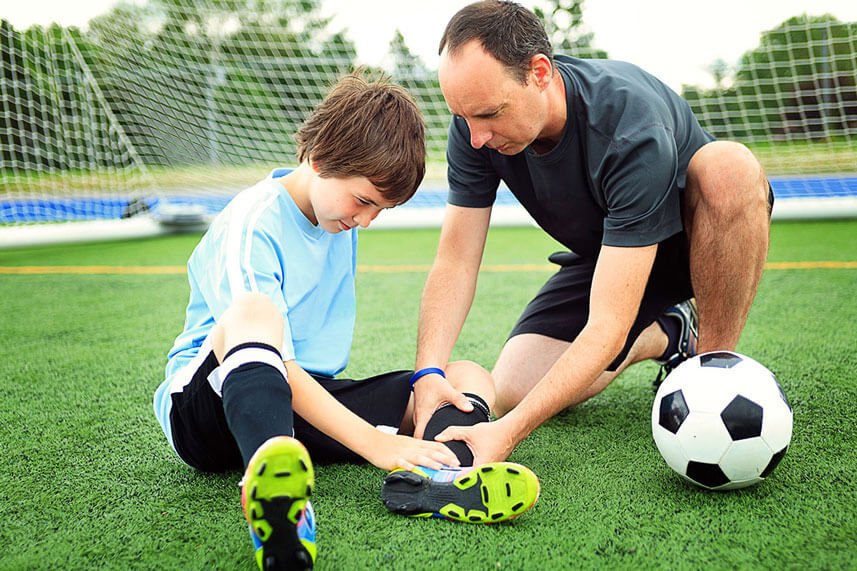 FastMed Sports Medicine doctors
FastMed sports medicine doctors, like those at sports injury clinics, have received fellowships for specialized training in the treatment and prevention of sports injuries. Whether you are a weekend warrior or professional athlete, our qualified sports medicine professionals can help you maximize your performance, while minimizing the risk of injuries and disabilities. Let the FastMed sports medicine team help get you back in the game, quickly and safely.
How to prevent sports injuries
Sports injury prevention is always preferable to sports injury treatment. In addition to treating your current problem, our sports medicine professionals can also advise you on ways to prevent future injuries, or re-injuries, once you get back on the field.
What sport has the most injuries?
FastMed sees a lot of sports injuries occurring from all types of sports. For the most part, the sports that result in the most injuries to athletes are not too surprising. There are a few exceptions, however.
For example, basketball and cycling are at the top of the list, beating out even football. Although full-contact team sports dominate, two of the top-five, most-injurious are individual sports—swimming and cycling.
The top sports injuries FastMed treats are:
Basketball
Cycling
Football
Soccer
Swimming
The most common injuries in sports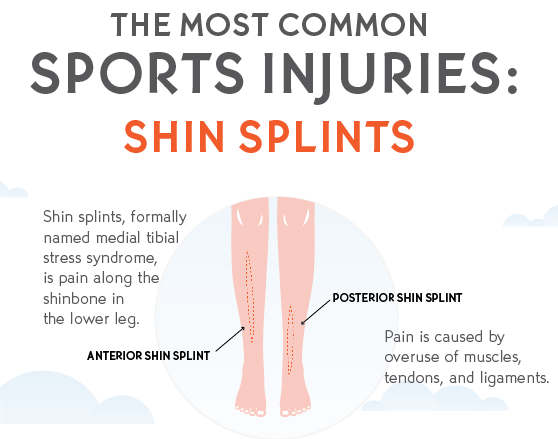 Strains and sprains —the overstretching or tearing of the muscles, tendons, or ligaments—are the most common sports-related injuries. Most are relatively minor, require little treatment, and can be successfully treated at your nearest FastMed clinic. Even when an injury requires long-term sports rehabilitation, FastMed can provide immediate medical care to evaluate the injury, ease the pain, and refer you to an appropriate sports injury specialist.
Although the sports injury you are most likely to encounter depends on the type of sport you play, the most common sports injuries seen by FastMed providers include:
Ankle sprains
Groin pulls
Shin splints
ACL tears (a common knee injury)
Patellofemoral syndrome (a knee injury resulting from repetitive movement of your kneecap against the thigh bone)
Tennis elbow
Head injuries, although less common, can be far more serious. If you suspect you may have suffered a concussion or other head injury, visit your nearest FastMed as soon as possible for a professional evaluation.
Sports physical therapy
Injuries are a natural part of sports participation. Knowing your risk, being proactive, and getting the appropriate care when needed will help you enjoy the thrill of the sport without the long-term agony of injuries, or frequently unnecessary trips to a sports clinic for physical therapy.
If you do experience a sports injury, and you are in pain, take comfort in turning to FastMed. Like sports medicine clinics, we provide immediate care for most types of sports-related injuries. In fact, the FastMed Sports Medicine Program is available at select clinics in Arizona, and the staff at all FastMed locations provide acute and chronic treatment for a full range of specialized sports injury care.
FastMed treats most sports injuries on-site and, if needed, can refer you to a physical therapist or another medical specialist. You will get top-notch care without having to wait for hours in the emergency room, or days—even weeks—for an appointment with a conventional sports medicine clinic.
Common sports injuries treated at FastMed
FastMed sports injury and prevention services include care and treatment for:
Tennis elbow, runner's knee & plantar fasciitis
Concussions, asthma
Sports physicals
Injections
*The Insurance Information Institute 2012 report
JS Powell, KD Barber Foss, 1999. Injury patterns in selected high school sports: a review of the 1995–1997 seasons. J Athl Train. 34: 277-84.
National Safety Council. (2014). Injury Facts®, 2014 Edition. Itasca, IL.
Ibid.
* The content presented on this page is not intended to diagnose health problems or take the place of professional medical care.