Women's health services
FastMed has provided women's health services since our inception in 2001. Our clinics offer extended hours to provide fast and reliable care for a wide range of women's health needs, including:
Click here to read the complete list of essential tests and physicals for every stage of a woman's life.
---
Abdominal complaints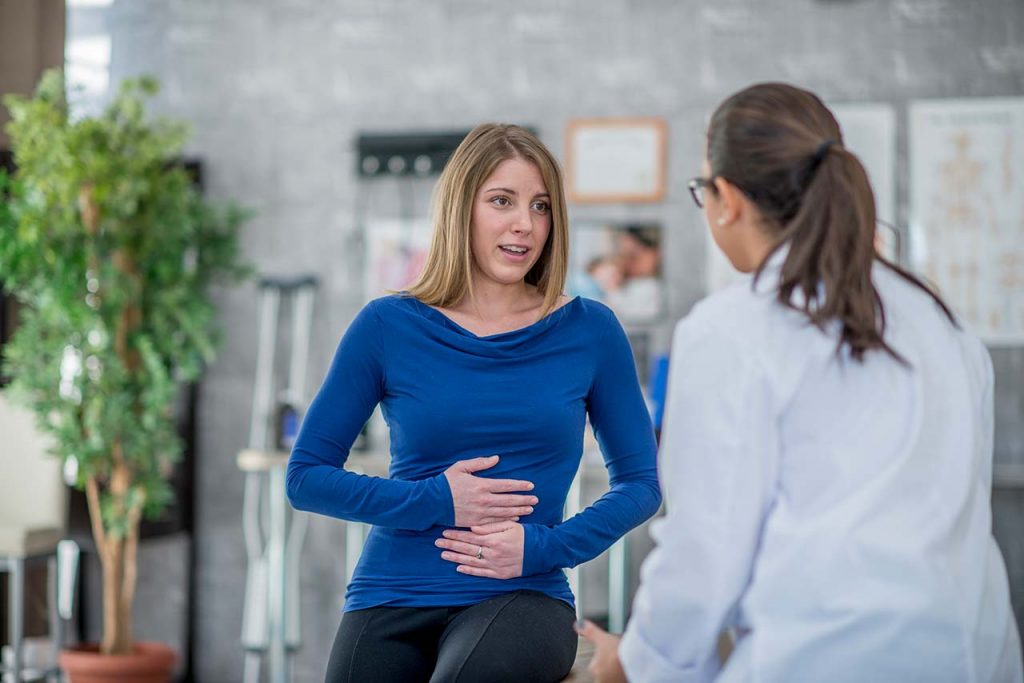 Female lower abdominal pain is common, and the causes of this pain vary drastically. Abdominal pain, including lower abdominal pain, is often pain coming from organs within the abdominal cavity. These organs include the stomach, small intestine, colon, liver, gall bladder, spleen, and pancreas. In women, the lowest portion of the abdomen is the pelvis and in addition to the bladder includes the uterus, fallopian tubes, and ovaries. It is often difficult to tell if the pain is actually abdominal pain or pelvic pain. The most common reason for lower abdominal pain in females is menstruation or menstrual cramps. Other causes include gas, indigestion, hernia, kidney stones, fibroids, diverticulitis, endometriosis, ovarian cysts, pelvic inflammatory disease, pancreatitis, and appendicitis among others. Our skilled medical staff will evaluate your acute abdominal and/or pelvic pain to determine the best way to reach the appropriate diagnosis and recommendation for further care.

Abscesses
Simply put, an abscess is a pocket of pus that can form due to infection. The infected area typically becomes red, tender, swollen, and painful. In most cases, an abscess will need to be drained. Some common abscesses that can plague women include breast abscesses, perirectal abscesses, pilonidal cysts, and vulvar abscesses. After a proper diagnosis, your FastMed team will recommend the best treatment for these painful lumps.

Breast-related complaints
Breast problems, such as breast lumps, painful aching breasts, or breast tenderness, are common in women of all ages—from adolescents to older women. While it can be frightening to discover a new breast problem, most breast problems are not caused by breast cancer. The most common type of breast pain is caused by the breasts' response to the fluctuating hormone levels that control the menstrual period. This can lead to fibrocystic breast condition. A breast infection, also known as mastitis, is an infection that occurs within the tissue of the breast. Infection typically affects the fatty tissue in the breast, causing swelling, lumps, and pain. If an abscess is suspected, our medical providers work with the patient to determine the best plan of action.

Hemorrhoids
Small amounts of bright red blood from the anal area, coupled with itching or irritation, may indicate that you're suffering from hemorrhoids. These swollen veins can result from a number of causes, often developing during pregnancy or caused by straining due to constipation. Consult with your FastMed practitioner regarding appropriate treatment options.

Hepatitis screening, STD testing & HIV blood testing
Sexually transmitted diseases can frequently result in a wide range of symptoms, ranging from rashes, bumps, and sores, to frequent, painful urination, blood in the urine, swelling, vaginal discharge, and even fever, aches, and chills. If you experience one or more of these symptoms, your FastMed team may recommend a urine, swab, or blood test to rule out the following:
HIV
Hepatitis B & C
STDs, including herpes simplex, trichomonas, gonorrhea, chlamydia & syphilis
These tests can be essential for arriving at a proper diagnosis and preventing further health risks to either you or others. Note: These labs are outside labs, billed separately.

IV fluids for dehydration
There are any number of reasons why your body may become dehydrated. Sweating, vomiting, diarrhea, or simply not drinking enough water can all result in fluid loss requiring rehydration. Common symptoms of dehydration include confusion, weak or rapid pulse, fatigue, dizziness, and nausea. If your dehydration is serious, your FastMed clinician may recommend replacement of essential fluids and electrolytes via intravenous infusion.

Minor dermatology & skincare
Our providers are experienced in diagnosing and treating minor dermatology and skincare issues like rash relief, hives, eczema, and more.

Pregnancy testing
FastMed will help you determine whether a light or missed period is due to pregnancy or some other medical cause. If you've experienced a missed period and suspect that you could be pregnant, we'll provide fast, accurate, and confidential testing. Early-morning pregnancy testing typically returns the best results.

Urinary complaints
UTI testing aids in proper diagnosis to minimize discomfort and prevent complications from common urinary complaints. UTI symptoms include urinary frequency and urgency, blood in the urine, and lower abdominal pain. Back, flank, or side pain could indicate kidney stones or infection. A definitive diagnosis for kidney stones requires an imaging test.

Uterine fibroids
Fibroids are basically benign—or non-cancerous—tumors that form in the uterine wall. Symptoms can vary based on size, location, and proximity to pelvic organs. If you experience pain, pressure, or abdominal bleeding that could be related to fibroids, ask your FastMed professionals for an evaluation and recommended treatment. If we suspect uterine fibroids, we can recommend an ultrasound or a follow-up course of action.

Vaginal complaints
If you experience vaginal bleeding between periods, a discharge, itching, dryness, abnormal and/or painful menstruation with severe menstrual cramps, your FastMed team can provide a diagnosis. Appropriate treatment may also be recommended to prevent further discomfort and/or possible painful complications.
---
Payment options
Insurance & discounts
FastMed accepts coverage and discounts from a wide range of insurers. Check the full list to see if your carrier or plan is among them.
Self-pay pricing
At FastMed, affordable self-pay urgent care visits start at just $119. Click to learn more.
---
* The content presented on this page is not intended to diagnose health problems or take the place of professional medical care.