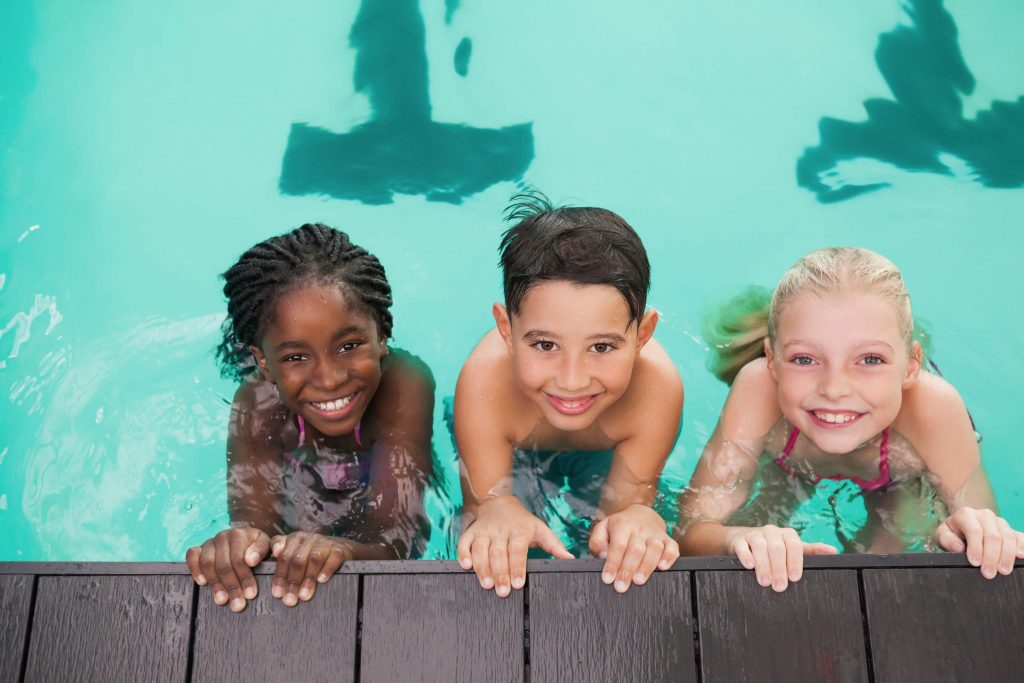 When the weather heats up, the pool is a perfect escape. It's a great place to enjoy the outdoors and keep your kids active. But there are a few things you should keep in mind. A commitment to pool safety might be the difference between a day of fun in the sun and a call to 911.
FastMed Urgent Care has partnered with the U.S. Consumer Product Safety Commission's Pool Safely campaign to help educate parents and their children about safe pool and spa practices. Drowning is the leading cause of unintentional death for children 1 to 4 years old, but a few simple steps may keep your kids safer all summer long.
1. Teach kids to swim.
Nothing can replace basic swim training. Drowning in the pool is 8 times more likely when a child does not know how to swim. Flotation devices and shallow pools can give you a false sense of security, but teaching your child how to swim is one of the best ways to prevent drowning. You can take all the precautions in the world, but accidents still happen; if your child falls in deeper water without proper flotation gear on, he or she needs to know how to get to the side of the pool.
Talk to your pediatrician. A healthcare professional will let you know when swim lessons are appropriate and how you can help your child succeed. Lessons are available at many local pools, recreation centers and YMCAs.
2. Always designate a Water Watcher.
It's important to understand an emergency protocol, and you want to have a safety plan in place, but the most important thing to remember may be that you should be with your children at all times. Supervising swim time can sound like a chore—but not if you're in the water playing, too. The best way to keep an eye on your children is to designate an adult as an official Water Watcher, an adult tasked with supervising children in the water. That should be their only task – they shouldn't be reading, texting or playing games on their phone. Have a phone close by at all times in case you need to call for help, and if a child is missing, check the pool first. If you prefer, you can get in the water with them, keeping tabs on them as you play a game or race across the pool. In no time, your kids will think having mom and dad supervise is pretty cool.
3. Keep unsupervised children away from the water.
If you have a pool in your backyard, make sure it has proper fencing around it with a self-closing, self-latching gate. If you live near a pool, make sure your children respect the gates and fencing and never enter the pool without adult supervision.
While you want to ensure your children have the water skills they need before visiting the pool, it's important to know that accidents happen to even the best swimmers. Using barriers to keep children away from the water is important.
4. Teach children about the dangers of drains.
A child is drawn to anything that looks different than other surroundings. That's why we cover electrical sockets on walls when kids start to crawl. Drains in pools and hot tubs are like sockets. They stick out on the bottom and the walls, and often suck or spit water, making them even more enticing. You need to teach your child about the dangers a drain presents.
Why are drains dangerous? Because they are powerful. A child can become stuck to a pool drain and drown. When you're at the pool or spa you should first ensure all drains have compliant drain covers. An adult or employee should also learn where the emergency vacuum shutoff switch is before everyone gets in the water. In the event of an emergency, hitting this switch can save a life.
 5. Learn cardiopulmonary resuscitation (CPR).
Many medical professionals will tell you that being prepared is one of the best ways to stop a tragedy from happening. Be sure your CPR skills are up-to-date before you take children swimming.
Even if you have taken a CPR class in the past, it's important to review the steps or take a refresher course on occasion. The medical recommendations can change often. Knowing the proper way to help a child in need while first responders are en route can make a huge difference in the outcome of any emergency.
FastMed and Pool Safely want to keep you informed
Make sure your child has the water skills he or she needs before you visit the pool, and always provide supervision. Even the best swimmers can get into challenging situations. These and a few other helpful tips from the Pool Safely campaign can help you and your family have a fun and worry-free summer.
Help protect children from drowning this summer. Take the Pool Safely Pledge and become a supporter of Pool Safely. It only takes a minute, and may save a life. If you'd like a FastMed representative and our mascot, FastMed Fred, to come to your child's camp or school to share more information about the Pool Safely campaign, please email us at CustomerRelations@FastMed.com.  The program is free, informative and fun for kids and adults.