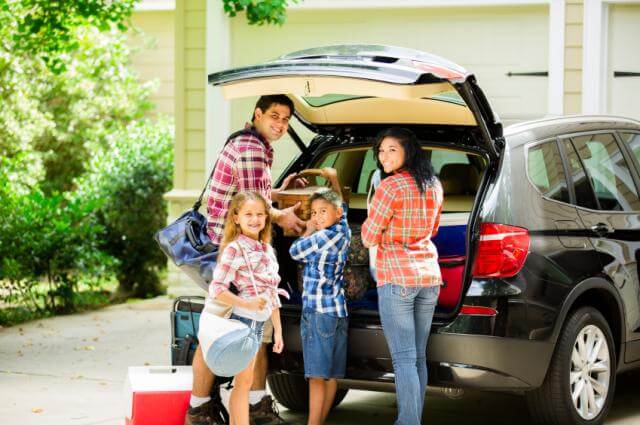 Heat waves wiggle on a blacktop. Sunscreen beads off a shoulder. A grill smokes…
The scenes of summer are here and the kids are buzzing around the house with no school to busy their minds. You need to get away. So pack the car, gather everyone—grandma included—and take an old-fashioned road trip across North Carolina. From the western reaches of the Blue Ridge Mountains to the sprawling dunes of the Outer Banks, a drive across the state offers plenty to please each member of the family, young or old.
Lake Lure
Camp, fish, boat or bask in the sun at Lake Lure. Located less than thirty miles southeast of Asheville, Lake Lure offers many attractions. You can take the family on a hike to the top of Chimney Rock or explore the rolling hills by car. If Lake Lure sounds familiar, it's probably because this place is so pretty it's a Hollywood favorite. Scenes from The Last of the Mohicans and Dirty Dancing were filmed in the area. Sing with me! "Now I… had… the time of my life…'"
Tweetsie Railroad
When grandma's feet get tired of scaling scenic peaks, head two hours north to Blowing Rock. This little town is a tourist's favorite, full of shops and restaurants. Grandfather Mountain is nearby, where you can walk the Mile High Swinging Bridge and watch bears in the pristine wildlife habitats. Grandfather is only a few minutes up the mountain from Tweetsie Railroad. This Wild West adventure takes you through the mountain terrain in an historic coal-powered steam engine, all while cowboys and Indians battle around you. Tweetsie Railroad is a step back in time with plenty of games and activities to entertain the whole family for a day.
U.S. National Whitewater Center
After you've had your fill of fun in Blowing Rock, head down US-321 to Charlotte. The U.S. National Whitewater Center has zip lines, obstacle courses, mountain biking, kayaking and white water rafting. Here you can paddle a gentle stream as a family or leave grandma at River's Edge Bar and Grill and take on some serious rapids—it's up to you.
You can find a number of pricing packages online, depending on what activities you like, and if you decide to stay through the day, check out the concert schedule. The facility hosts live music on Thursday and Saturday, May through September. All River Jams are free with a $5 parking fee.
Old Salem
Every family vacation needs an educational stop. With an immersive historical setting and on-site museum, your family will get a first-hand understanding of what life was like in the Carolinas long before kids complained about cell phone batteries and download speeds.
NC Aquarium at Fort Fisher
From Old Salem, take Interstate 40 east until your map turns blue. Then wind along the coast toward the Civil War-era Fort Fisher, a national historic landmark and namesake of the Aquarium at Fort Fisher. With thousands of species of sea life, the Aquarium is a wonderful way to spend a day. Programs and activities run all the time and include outdoor explorations. What's even better, if the parents need a break from the kids, the Aquarium offers summer camps. All you have to do is sign up the youngsters, sit grandma near the shark tank and escape to Wilmington for the day to eat and shop along the waterfront.
Wright Brothers National Memorial
If the family is still speaking after your trek across North Carolina, ride up the coast to Kill Devil Hills and visit the Wright Brothers National Memorial. This is the longest drive of the trip, almost five hours long, but seeing the Outer Banks is worth hearing the kids ask "Are we there yet?" a thousand times.
At the memorial you can explore where man first conquered the sky and the kids can run and play in the open spaces. The Wright Brothers National Memorial is not far from Jockey's Ridge State Park where you can climb towering dunes. If you're feeling brave, rent a hang glider and take a quick flight of your own.
FastMed is here for you all summer long
A road trip with the family is a chance to make memories that will last a lifetime. Adventures are, as we all know, also opportunities for scrapes and stumbles. Whether some bad butter turns your tummy in Old Salem or a trail in Chimney Rock leaves you limping, remember FastMed is always available to help you get back on your feet. We hope you don't need us, but we have locations across North Carolina in the event that you do.
And check out the Pratt Family as they navigate an American Summer like your family!
About FastMed
FastMed Urgent Care owns and operates nearly 200 centers in North Carolina, Arizona and Texas that provide a broad range of acute/episodic and preventive healthcare services 365 days a year. FastMed also provides workers' compensation and other occupational health services at all its centers, and family and sports medicine services at select locations. FastMed has successfully treated more than six million patients and is the only independent urgent care operator in North Carolina, Arizona and Texas to be awarded The Joint Commission's Gold Seal of Approval® for quality, safety and infection control in ambulatory healthcare. For more information about locations, services, hours of operation, insurance and prices, visit www.fastmed.com.